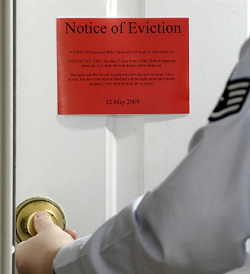 According to a recent press release by the Philadelphia Bar Association, advocates in Philadelphia have proposed a bill that would expand access to tens of thousands of low-income individuals, who face eviction at alarming rates.
In their 2018 annual report, Stout, a consulting company, found that "providing access to legal counsel is one of the most effective measures to prevent the burdensome financial and human costs to our city resulting from evictions and homelessness."
In fact, a national database published by Eviction Lab, ranked Philadelphia as the fourth among U.S. cities, only behind New York, Indianapolis, and Houston, for the highest number of evictions in 2017. Philadelphia, is also, by far, one of the largest city to make the top 100 list for top evictors and notably, one of the few located outside of the Bible Belt or the Mid-West.
The 'City of Brotherly Love,' raked in approximately 10,624 evictions in 2016, amounting to 28.12 households evicted every day.
Other cities, including Los Angeles, New York and Houston have also followed suit, introducing similar legislation that aims to help renters, who traditionally, have not had the opportunity to attend court with legal representation when facing eviction.
In a press conference held on May 9, 2019, Councilmember Helen Gym, shared her concern, noting that "our city is facing an eviction crisis that destabilizes families and put significant stress on our people, our schools, and our city services. Although this crisis impacts every corner of our city, it does hurt some communities more than others: People of color, single mothers, black women, disabled folks, and seniors suffer the most."
Indeed, while for many low-income renters, the cost of hiring an attorney is out of reach, for the majority of landlords, 81% to be exact, can afford to attend court with counsel.
Stout's report also found that "an annual investment of $3.5 million in legal representation would save the city $45.2 million annually." At the press conference, Rochelle Fedullo, Philadelphia Bar Association Chancellor, stressed that the bill is a step in the right direction, because low-income, unrepresented tenants, will now have a fighting chance to protest their evictions in court.
In about 78% of cases, unrepresented tenants were found to be displaced, compared with represented tenants, who were evicted at a rate of 5%. Thus, having an attorney by their side, could mean, that at a minimum, 14,418 renters could avoid being evicted from their homes every year.
To read the press release, please click on this link below: http://www.philadelphiabar.org/page/NewsItem?appNum=1&newsItemID=1001871