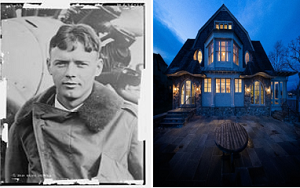 Built in 1919, the pristine waterfront home, owned by famed aviator Charles Lindbergh and his wife, Anne, is for sale, with an asking price of $11.75 million.
Located in Darien, Connecticut, the 5,663-square-foot, six-bedroom, six-bath home overlooks Scotts Cove with its large arched windows and glass doors. Adjacent to the house, sits a quaint guest cottage, named "Tellina" by the Lindberghs, with 1,100-feet of shoreline, which is priced at $6.3 million.
The house and cottage can be purchased jointly or separately.
The couple, along with their four kids, lived on the property, on and off, until Lindbergh's death in 1974, and Anne's in 2001.
"Lucky Lindy" rose to international fame in 1927, for his solo, trans-Atlantic flight between New York and Paris. During his life, Charles received the first Distinguished Flying Cross ever awarded by President Calvin Coolidge, flew dozens of combat missions during WWII, and acquired several residences in Hawaii and France.
The Davien house is equipped with a large kitchen and breakfast room and a 5-car garage. There is also a private dock (which can support up to two boats) and a large terrace. According to Top Ten Real Estate Deals, "the landscape was originally designed by the Washington, DC-based Oehme, van Sweden, responsible for the landscaping at the Federal Reserve, World War II Memorial and Martin Luther King, Jr. Memorial."
To view the listing, please use this link:: https://www.williampitt.com/search/real-estate-sales/23-tokeneke-trail-darien-ct-06820-170183002-2114375/
Should you require assistance with a real-estate transaction, please do not hesitate to call one of our attorneys at 212-619-5400.