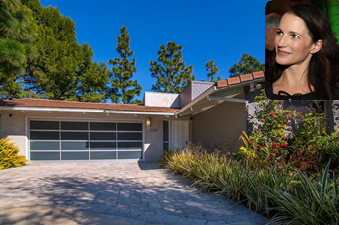 Sex And The City actress Kristin Davis, who played "Charlotte York," a yuppie from Connecticut, just listed her longtime Brentwood, Los Angeles, home for $3 million.
Hidden among a stretch of coral trees, her contemporary home, built in 1978, consists of four bedrooms, 5 bathrooms and has over 4,000-square-feet of airy living space. The property also hosts a two-level guest house, with one bedroom, kitchenette, living room, bath and a two-car garage.
Designed as "Mid-century meets contemporary architecture," the open floor plan is spacious, and features a vaulted beam ceiling and a home theater. Lastly, with large glass walls overlooking the Santa Monica Mountains, the property offers spectacular panoramic views of the City of Angels.
While Davis is most known for her role on HBO's Sex And The City, and its two spin-off films, she has also had roles in Friends, Will and Grace, and most recently, the sitcom, Bad Teacher. However, it's hard for many fans to disassociate the actress from her onscreen role as Charlotte, given the fact that the show has gained a cult-like following.
During her career and along with the rest of the cast, which included Sarah Jessica Parker, Kim Cattrall and Cynthia Nixon, Davis was awarded the 1999 Women in Film Lucy Award in recognition of her depiction of Charlotte as a forward-thinking woman, which helped enhance the perception of women throughout the entertainment world. She also received an Emmy nomination for her role as Charlotte in the final season.
According to TopTenRealEstateDeals.com, Davis has owned the property for over 20 years but has decided to move to a larger home in the same neighborhood with her two young kids. Unlike her character from the show, Davis has no plans to marry and shared in an interview that: "'I've never exactly been the status quo.'"
To view the listing, please use this link: https://www.toptenrealestatedeals.com/homes/weekly-ten-best-home-deals/2019/05-16-2019/1/
Should you require assistance with a real-estate transaction, please do not hesitate to call one of our attorneys at 212-619-5400.