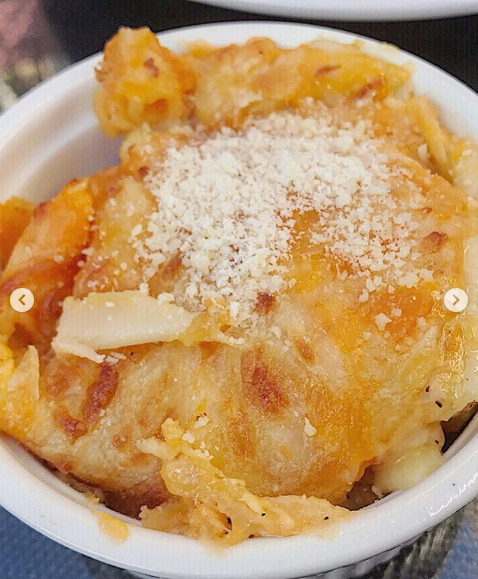 For some reason, people rave about the "Pink Teacup Villa" over on Washington Avenue in South Beach. Headed by "Chef LP" — Lawrence Page — we decided to check out his place for ourselves.

What particularly peaked our curiosity, is that Page happens to be the star of the We TV reality show "Hustle & Soul" — which is chronicling his quest for a Michelin Star.

Despite his apparent celebrity status, his Brooklyn location is now shuttered. But, according to Page's website, another restaurant is slated to open in Atlanta, soon. (Reportedly, sometime in April of 2019.) His SOBE 300 seater opened in May of 2018.

Even though his "Buttermilk Fried Chicken + Waffle" (reviewed yesterday) was a disaster, we thought we'd try the "LP Famous Mac" — Page's take on mac 'n cheese.

In addition to being taken aback by the small serving size, the cheese seemed to have seized and hardened, making the dish impossible to enjoy. (Yes, it was also served cold.)

And because we thought $15 was a huge ask, for such a puny portion of putrid pasta, we rated this horrid dish an "F."

Page may want to stop shooting for that Star, and refocus on his soul food game. This offering was just not acceptable.

Terribly displeased, and not amused by the lapses (including the stained menus we were handed), we refrained from ordering any additional dishes and left this establishment ... ravenously hungry.

Shame, shame, shame ....
.