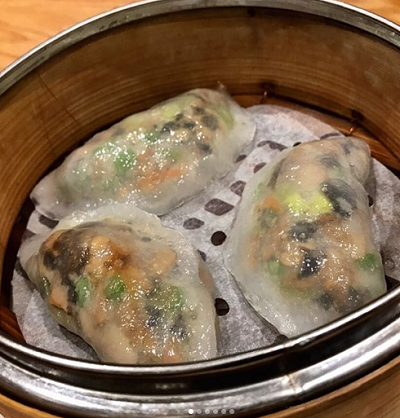 Some IG friends suggested that we go to Tim Ho Wan — the "Dim Sum Specialists" — over on 9th Avenue, in Manhattan's "Hell's Kitchen."

Given that several of the Hong Kong branches of this restaurant chain (with some 45 locations worldwide) have been awarded a Michelin star, our expectations were running high.

We started with their "Steamed Vegetable Dumplings," 3 pieces for $5.60. And eating it proved to be a challenge.

The wrapper was so thin and delicate, that when we tried to pick up (or remove) a dumpling, it disintegrated upon touch, or got stuck along the sides of the steamer.

Because the little that we were able to sample was rather bland, and unmemorable, we rated this dish an "F."

We also thought the $5.60 ask, for three small pieces of shredded vegetables, was totally unjustifiable. So while it may be the "world's most inexpensive Michelin starred restaurant," Tim Ho Wan certainly ain't cheap.