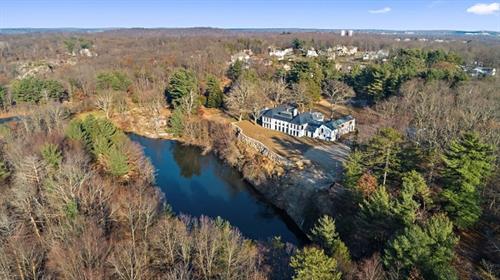 The lake house mansion, originally owned by the Straus family – former owners of the Macy's department stores back in 1895 – will be auctioned off on June 13th, with a starting price of $2.5 million.
Located only 45 minutes by train from Grand Central Station, the Westchester home sits on nearly 8-acres of land and is situated between a private lake and an array of beach trees.
After being sold in the 1980s to the Hearst family (owners of the nation's largest newspaper chain and media company), the estate fell into the hands of the Consulate of the Republic of the Seychelles in 2016, and up, until recently, served as the family home of Justin Etzin, the island-nation's Consul General.
According to TopTenRealEstate.com, after the diplomat's divorce, the couple made the decision to auction off the property in a sealed-bid spearheaded Paramount Realty USA.
The estate features a 13,721 square foot, 8-bedroom, 10-bathroom main house, a log cabin at the foot of the lake, guest cottages, horse stables, and a 3-car garage. According to the original listing, much of the surrounding land is owned by New York State's Department of Environmental Protection and New York City's Bureau of Water Supply.
Misha Haghani, owner of Paramount Realty USA, noted: "Rarely does a property so rich in history, and with so many potential uses, become available for sale by auction. A developer or end-user purchaser may choose to gut-renovate or demolish the main house, sub-divide the property into 3-6 individual lots, or renovate it as a school, religious compound, or other facility."
To view the listing, please use this link: https://www.toptenrealestatedeals.com/real-estate-news-headlines/2420-macys-family-mansion-auction/
Should you require assistance with a real-estate transaction, please do not hesitate to call one of our highly regarded attorneys at 212-619-5400.