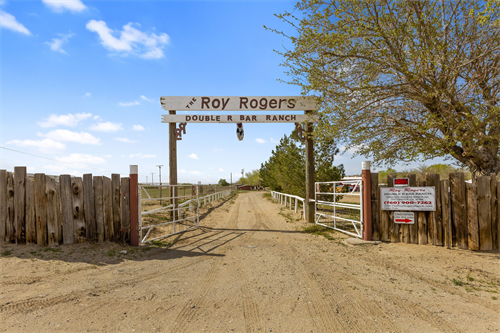 Roy Rogers' Double R Bar Ranch in Victorville, California hit the market, with an asking price of $3.7 million.
Owned by the "Singing Cowboy" actor and his actress-wife Dale Evans, the 65-acre ranch was built in 1920, and purchased by the famous couple in 1955 for $120,000 or about $ 1.2 million in today's dollars, adjusted for inflation. The ranch, which sits along the banks of the Mojave River in the small Route-66 community of Oro Grande was only a couple miles away from the couple's residential home in Apple Valley.
Entering the ranch is like stepping into a Clint Eastwood film set, complete with a western town, saloon, and a quintessential "Red Barn," which holds 17 horse stables. The grounds include a 1,900-square-foot main house, a 1920s guest house, a bunkhouse, a kitchen, 6 restrooms, a vineyard that Roy planted in the 1960s, and a half-mile race track.
The ranch has been featured in several films and T.V. shows, including, "The Roy Rogers Show," which ran on NBC TV from 1951 to 1957.
After Rogers died in 1998, the ranch was purchased in 2002 by Ernesto Enriquez, the son of one of Roy's horse trainers. Enriquez and his family remodeled and almost doubled the size of the property, transforming it into profitable tourist attraction, before it was sold again, in auction, to a Hawaiian social worker in 2012.
Currently, the ranch maintains the Western tradition of raising longhorn cattle and horses, and the property has been used for hosting events, such as weddings, epic Easter egg hunts, and equestrian shows.
To view the listing, please use this link: https://www.toptenrealestatedeals.com/homes/weekly-ten-best-home-deals/2019/05-20-2019/1/
Should you require assistance with a real-estate transaction, please do not hesitate to call one of our attorneys at 212-619-5400.