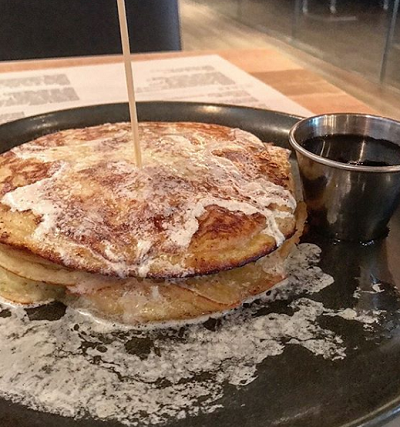 While we were having breakfast at Even Keel Fish & Oyster (over on North Federal Highway, in Fort Lauderdale), our waitress recommended that we try the "Meyer Lemon Ricotta Pancakes" — served with Florida honey butter, whipped cream ($13).

Adjectives such as "fluffy," "velvety," "pillowy," and "custard-like," are often used to describe this particular preparation. But that ain't what we got.

This particular stack of flapjacks was more bready, and buttery, than anything else. (If that's what we had wanted, we would have asked for a baguette or some bagels.)

We also dislike when a menu overpromises, and/or the kitchen underdelivers. (Anyone see any "whipped cream" anywhere on that plate?)

Since it was such an unexciting offering, these pancakes scored low, and (in my opinion) earned an extremely generous "C" — particularly given the $13 ask.

While the restaurant's website claims that, "Even Keel isn't just our name it's our way of life." This dish was off-kilter.