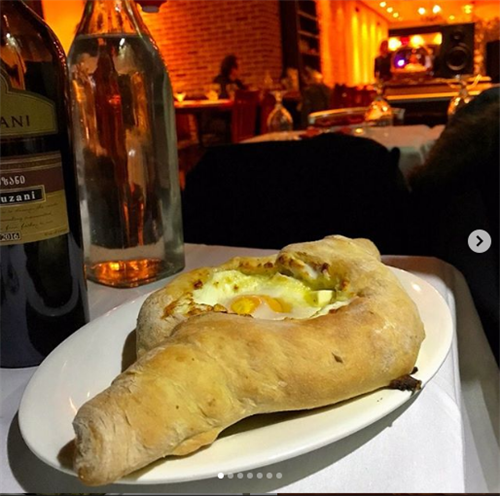 You know you're in trouble when your NYC friends refuse to take you to their favorite haunts, because they're afraid you'll post a bad review. (Come on. Really?)

So, we ended up at this little spot, down in the Village, called "Old Tbilisi Garden."

Located at 174 Bleecker — only steps away from Doctor Strange's Sanctum Sanctorum — this restaurant is one of a supposed handful that offers Manhattanites "authentic Georgian cuisine."

We decided to try the "Adjaruli Khachapuri" — Georgian: ხაჭაპური — an oven baked dough formed into an open boat shape that's filled with sulguni cheese and topped with an egg and a pat of of butter ($20) — which (after some quick stirring) is basically a fondue in an edible serving container. (Check out the video.)

Even though it was extremely gooey and heavy, because we found it tasty, different and quite enjoyable (in small doses, of course), it ultimately rated a not-too-shabby "B-."

Points were lost because most had issue with the pricing. ($20 for some dairy-filled bread and a egg?) Nor is this an ideal dish for those who suffer from lactose intolerance or high cholesterol. (Remember to bring a generous supply of lactase enzymes and statins!)

Meanwhile, across the street, good luck trying to catch a glimpse of the doctor, his companion (Clea), his manservant (Wong), or the apprentice sorcerer (Rintrah) — as the place has been magically transformed into a tattoo shop.