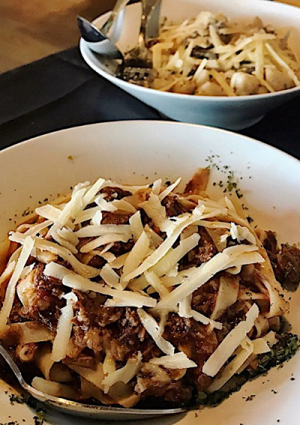 If you're a fan of freshly made pastas, head on over to "Fabio The Venetian: Wine Bar & Restaurant," located at 3471 N. Federal Highway, in Oakland Park (Fort Lauderdale).

"Fabio" most certainly exists. And he takes great pride in his Venetian heritage, and in serving his customers "authentic" Northern Italian Cuisine.

On the day we visited, he was offering a "Braised Beef with Fettuccine" ($22.80).

Only order that "special" if you're in the mood to indulge in some outstanding Italian comfort food. It was a solid dish.

And while these photos don't do it justice, the ribbony pasta paired well with the earthy taste and texture of the succulent shredded beef. (Some thought, however, a wider noodle, like a pappardelle, would have worked better.)

Even though we thoroughly enjoyed the dish, a few points were lost because Fabio was (again) too heavy-handed with the cheese. Yet, he still managed to score an extremely respectable "A-."

Bravo, Fabio! Encore!

Follow Lucas on Instagram:@lucasaferrara