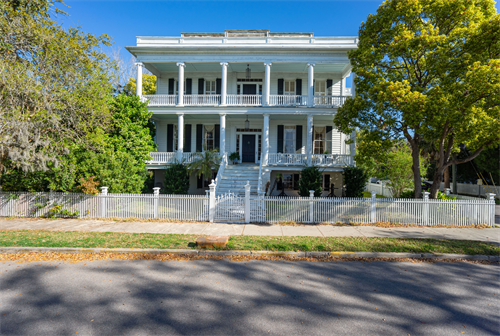 Located in the second-oldest city in South Carolina, a historic antebellum mansion in Beaufort has hit the market for $2.7 million.
The 7,600-square-foot home was built in 1852 by South Carolina planter Lewis Reeve Sams, who at the time of its construction owned half of Dataw Island, according to South Carolina Historic Property Records.
However, as reported by TopTenRealEstateDeals.com, when the Civil War broke out, the property served as a hospital for Union Army officers and headquarters to Union General Rufus Saxton. In its later years, the home was used as a hotel and was even featured in the 1991 film, "The Prince of Tides," starring Barbra Streisand and Nick Nolte.
Since 2006, the mansion has been used as a private residence by its owners Scott and Gwen Myers.
For the past 167 years, this three-story residence has retained its plantation-style architecture and its extravagant design work. Numerous Greek revival pillars line the edge of the home, while prominent black window shutters and a huge sitting area, all add to the homes 19th-century charm.
The interior features six bedrooms, seven bathrooms, a large entry with a sweeping staircase, a library, parlor, family room and full kitchen. The home is also equipped with eight fireplaces, hardwood floors, and modern conveniences, such as an elevator, two laundry rooms, and a catering kitchen on the ground floor.
The double-level verandas keep it breezy year round and offer scenic views of the Beaufort River. And, lastly, a romantic garden featuring boxwood hedges and a pergola covered in moss and wisteria,which enhance the home's unique charm and elegance.
To view the listing, please use this link: https://www.toptenrealestatedeals.com/homes/weekly-ten-best-home-deals/2019/05-30-2019/1/
Should you require assistance with a real-estate transaction, please do not hesitate to call one of our attorneys at 212-619-5400.