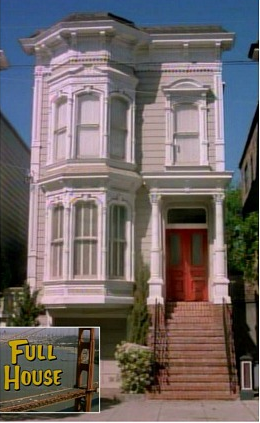 The Victorian mansion, which was featured in the ABC sitcom, "Full House," has hit the market with a price tag of $6 million.
Located in one of the most picturesque neighborhoods in San Francisco, the famous home attracts dozens of tourists every day.
The hit show, which ran from 1987 through 1996, revolved around sportscaster dad, "Danny Tanner," (played by actor Bob Saget), who was left to care for his three children (played by Candace Cameron Bure, Jodie Sweetin, and Mary-Kate and Ashley Olsen, who rotated in the role), after his spouse died in a car crash. In need of assistance raising youngsters, Danny's brother-in-law "Jesse," (played by John Stamos), and his friend "Joey," (Dave Coulier), moved into the 1882 iconic home to help lend a hand.
Before recently hitting the market, the home was owned by executive producer, Jeff Franklin, who acquired the property back in 2016 for around $4 million.
According to TopTenRealEstatedeals.com, Franklin restored the exterior to how it looked in the T.V. show, with light gray paint, white trim, and a red front door.
"The home will always have tremendous emotional significance to me," Franklin said in a statement to the San Francisco Chronicle. "It is a symbol of the shows I love, and the second family I have formed with the casts of 'Full' and 'Fuller House.' Now that 'Fuller House' is ending, I [have put] the home back on the market. I hope to find a buyer who wants to make it a full house once again."
While the exterior may resemble the fictional family home, the five-bedroom, 3.5-bathroom has a modern, 21st- century vibe. With its soaring ceilings, skylights, and beautiful wooden floors, the house is sleek, while still holding on to its Victorian past, featuring ornate moldings and Corinthian columns.
The large kitchen is equipped with Calacatta Oro Marble cabinetry, designer lighting, and a fireplace. And last, but not least, an extensive patio and English garden offer ample space for hosting events or kicking around a soccer ball.
To view the listing, please use this link: https://www.toptenrealestatedeals.com/homes/weekly-ten-best-home-deals/2019/05-30-2019/1/
Should you require assistance with a real-estate transaction, please do not hesitate to call one of our attorneys at 212-619-5400.