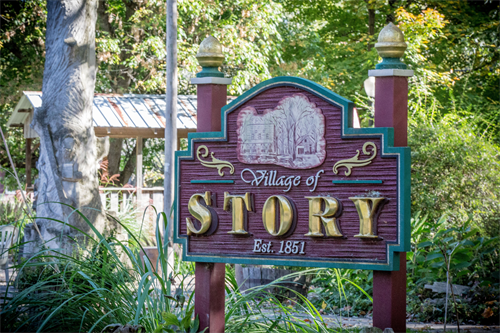 Have you ever considered buying an entire town? Well, now you can!
Located in the heart of Indiana, the fairy-tale town of "Story" has the hit market for a cool $3.8 million.
This tale began in 1851, when President Millard Fillmore, the 13th president of the United States, awarded 173 acres of land to a small-town doctor, named George P. Story. The story goes, that Dr. Story developed some 17 acres into a prosperous community -- adding a general store, school, post office, and doctor's office. However, with the Great Depression, the community was on the precipice of becoming a ghost town, as many people ventured West in hopes of new opportunities.
Interestingly enough, it was the general store that kept the town afloat well after the Great Depression, and into the 50s. According to TopTenRealEstateDeals.com, since 1978, the town has passed between the hands of two owners, both of whom made various repairs in an attempt to attract more tourists from Bloomington, and neighboring Cincinnati.
Today, the area is a tourist hotspot and attracts visitors with its gourmet farm-to-table restaurant, a quaint bed-and-breakfast, general store, and adjacent state park, famous for its fall leaves. Its current owner, Rick Hofstetter, who bought the sleepy town in 1999, refurbished all six houses and kept their original historic wooden floors and tin ceilings.
As an aside, the entire town is listed by the National Register of Historic Places.
To view this listing, please use this link: https://www.toptenrealestatedeals.com/homes/weekly-ten-best-home-deals/2019/06-13-2019/1/
Should you require assistance with a real-estate transaction, please do not hesitate to call one of our experienced attorneys at 212-619-5400.