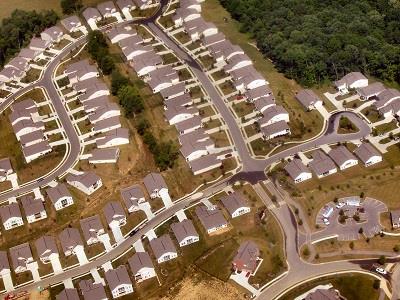 As "Weird Al" Yankovic put it in a song, "Buy me a Condo," what could be more suburban than "Tupperware parties, a weenie barbecue, and wall-to-wall carpeting?"
It's been more than a decade since the collapse of the housing market, and the suburbs are finally attracting young homebuyers.
According to the Wall Street Journal, outlying residential areas now make up 14 of the 15 fastest growing cities in the U.S. The revival of suburbanization is also supported by the Brookings Institute, which notes that suburban growth trended downward through 2012 — when suburbs grew at a much smaller rate that urban centers. However, their 2017 study found that the growth of urban cores has halved and exurban county growth has quadrupled since 2015.
This shift is notable because after the 2008 recession and mortgage meltdown, millennials began to flock to major cities, leaving behind their local Applebee's and multi-car garages.
So what's driving the exodus? Marriage, kids, and housing prices. The WSJ reports that as millennials begin to settle down, they are abandoning cities due to cheaper real estate and the desire for more space.
In fact, that desire is so great, that the growth rate for urban centers like New York, Chicago, and Seattle is down 0.69 percent, a 40 percent drop. (CHECK % reference — you mean 69 percent or .69? Big difference.)
Some, like Karen Harris, from Bain Macro Trends, speculate that the population of exurbs may exceed urban centers by 2025, but only time will tell.