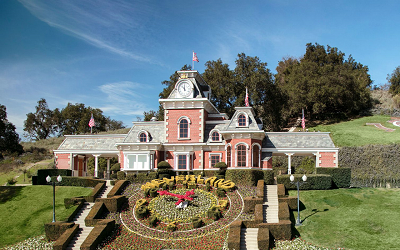 Even though the "King of Pop" is no longer with us, his beloved "Neverland Ranch" continues on. After Michael Jackson's death, Neverland was put on the market for $100 million, but never sold. Fast-forward to 2019, some ten years after he passed from a drug overdose, the property is now available for purchase, but at about 70% off the original price; a cool $31 million.
Named after the mythical island in the story of Peter Pan, a boy who never grows up, the estate channeled Jackson's inner "Pan," and was home to a petting zoo, a fully-equipped amusement park, and an arcade.
Jackson bought the 2,700-acre ranch in 1987 for some $25 million, and spent many years and millions more to develop the estate into a "Disneyesque" fantasy land.
Over the years, the property was used to host a number of events, such as the 1991 wedding of Elizabeth Taylor, the live, 1993 Oprah Winfrey interview of Jackson, and, an event in 1995 where Jackson and his then-wife, Lisa Marie Presley, hosted children from around the world.
Located in Santa Barbara County, the gated estate features six bedrooms, a pool house, immaculate gardens, a four-acre lake with fountains and waterfalls, and much, much more.
Even though the house is nothing short of extravagant, it's been a hard sell due to the child molestation accusations waged against Jackson back in 2006. Despite his acquittal, the ranch closed down shortly thereafter, and has since undergone a total rebranding, starting with a new name -- Sycamore Valley Ranch.
However, according to one of the real estate companies handling the listing, you are going to have to be more than a Jackson fan to visit this property. According to the Wall Street Journal, "[the] seller is not encouraging a lot of showings," and potential buyers will need to undergo an extensive pre-qualification process prior to being allowed to inspect or visit.
To view the listing, please use this link: https://www.toptenrealestatedeals.com/homes/weekly-ten-best-home-deals/2019/06-17-2019/
Should you require assistance with a real-estate transaction, please do not hesitate to call one of our attorneys at 212-619-5400.