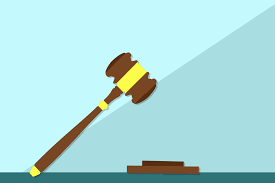 From 2017 to 2018, the World Justice Project polled over 10,000 people across 101 countries to find out how individuals around the world address their everyday legal conflicts.
The study found that nearly half of people surveyed experienced at least one legal problem in the past two years. About 29% sought some form of advice, from family or friends, rather than the courts. Only 17% took their squabble to an authority, or third party, to mediate or adjudicate their claims.
"This new data reveals the scope and depth of legal problems ordinary people face all over the world, including problems related to employment, housing, education, health, and family life," said Elizabeth Andersen, executive director of the World Justice Project. "This should concern us all. These issues and how they're addressed, or not, go to the heart of people's social, economic, and physical well-being."
The most common wrangles people faced included disputes with landlords, neighbors, utilities, insurers, and people providing services. Other hurdles included extortion from a gang or criminal organization, becoming homeless, and difficulty collecting money owed.
More specifically, in the United States the most commonly reported legal troubles concerned consumer issues (reported by 30%), housing (31%), and money and debt (36%).
Interestingly, while the types of quarrels varied, issues such as housing, debt, and consumer-related discords were among the most recurring, regardless of the country.
In the United States, 66% of those surveyed had experienced a legal flap in the past two years, and 33% who reported legal quandaries were able to access help (from a charity, employer, legal aid office, or health and wellness professional), while 49% sought advice from friends and family; 38% turned to a lawyer or other professional, 15% got help from a court, government body or the police.
Should you have a need for legal assistance, please do not hesitate to reach out to one of our experienced attorneys by calling (212) 619-5400.