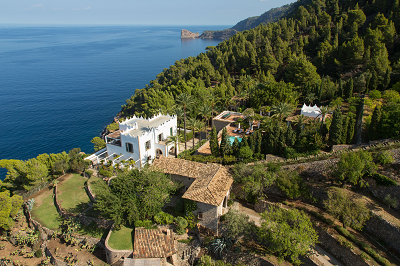 Academy Award-winning actor, Michael Douglas, has put his stunning 200-acre, Mediterranean estate on the market for a handsome $32.7 million.
Beginning his real-estate career at the young age of 21, Douglas's Majorca estate is only one of several around the world. According to TopTenRealEsate.com, with the first money he ever made, working on one of his father's films in 1966, Douglas bought 70 acres of raw land in Vermont -- which he still owns.
Overlooking the Balearic Sea, this spectacular property was once owned by the Archduke of Hasburg in the 19th century and was his go-to vacation spot. When Douglas acquired the parcel back in 1989, with then-wife Catherine Zeta-Jones, significant renovations were made, but the estate's romantic charm was preserved.
While the original property only contained one main building, after the celebrity couple moved in, six separate buildings, a library, gym, multimedia room, and a marble-lined swimming pool, were constructed.
With a total of 10,764-square-feet of living space, there are 10 bedrooms and 10 baths, with a capacity of sleeping up to 20 guests.
The grounds also contain ancient olive trees, a vineyard, terraces and Moorish pavilion. Hidden below the main building, is a large wine cellar, which holds casks and bottle storage for wines that have been produced on-property.
Additionally, the outdoor area contains palm trees, almond trees, fruit trees, and thousand-year-old olive trees, which adorn the estate in addition to the vineyards and forests.
For those of you with yachts, access to a private pier and dock is also available.
To view the listing, please use this link: https://www.toptenrealestatedeals.com/homes/weekly-ten-best-home-deals/2019/06-24-2019/1/
Should you require assistance with a real-estate transaction, please do not hesitate to call one of our highly regarded attorneys at 212-619-5400.