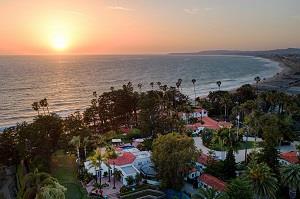 Dubbed as the "Western White House," an Orange County mansion, which was once home to former President Richard Nixon, has hit the market for a whopping $57.5 million.
This Oceanside, Spanish-style, 1927 home crafted by architect Carl Lindbom for financer Hamilton Cotton, sits on 5.45 acres, with 450 feet of beachfront. The property was purchased by Nixon back in 1969, shortly after he became president, and is considered to be the most notable property that he owned in his lifetime.
The family retained the residence for some 12 years and entertained heads of state – including Ronald Reagan, Henry Kissinger, and Leonid Brezhnev – with whom Nixon signed the Soviet-American communique in 1973. During his presidency, Nixon used this home as his summer residence, but after Watergate and his resignation in 1974, he occupied it until it was sold in 1980.
The property is comprised of a main house (9,000 square feet), with seven bedrooms, a two-bedroom guest house, a 3,000 square-foot pool, and three staff living quarters. According to TopTenRealEstateDeals.com, when it was acquired by Nixon, he replaced the existing tennis court with a swimming pool. Additionally, with Camp Pendleton Marine Base nearby, the residence's proximity provided convenient access to Air Force Once, and additional security.
To view the listing, please use this link: https://www.toptenrealestatedeals.com/homes/weekly-ten-best-home-deals/2019/06-10-2019/1/
Should you require assistant with a real-estate transaction, please do not hesitate to call one of our attorneys at 212-619-5400.