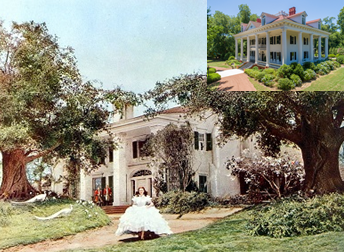 Known as the property that inspired "Twelve Oaks," home of the Wilkes family in the movie classic "Gone with the Wind," this antebellum mansion (located in Covington, Georgia) was recently put up for auction with a starting bid of $1 million.
When author Margaret Mitchell came across a photograph of this 1836 plantation-style house in the Atlanta Journal, she knew this place had to be in David Selznick's 1939 film adaptation of her novel.
After it gained international fame, thanks to Selznick's film, the property opened up to the public in 1948, and guided tours were offered up until the early 2000's. More recently, the house served as an award-winning bed and breakfast, event venue, tourist destination, and stomping ground for some 15 movies, before current owners, Nicole and John Munn, restored the property in 2017, to its former glory. (After investing nearly $2 million to convert the space back into a private residence.)
At 10,000 square feet, the stunning property has 11-foot ceilings and hardwood floors throughout, chandeliers, period lighting, 12 bedrooms, 13 baths, and 12 fireplaces. A formal parlor greets guests, and a large dining room and a new marble kitchen all make the perfect backdrop for entertaining.
The exterior of the home features a swimming pool with a historic pergola, a plethora of porches, a large deck and over three acres of English-style gardens. A four-car garage houses both Tesla and Copper Creek charging stations for cars and golf carts.
"This would make a magnificent home, a lucrative business or both," Dewey Jacobs of Target Auction said in a news release. "Operating permits for a B&B, an event venue, and a historic tourist site are already in place, and the property receives movie and TV contracts each year. So this could be a huge opportunity for someone."
Are you that special someone?
To view the listing, please use this link: https://www.toptenrealestatedeals.com/homes/weekly-ten-best-home-deals/2019/07-05-2019/1/
Should you require assistance with a real-estate transaction, please do not hesitate to call one of our extremely capable attorneys at 212-619-5400.