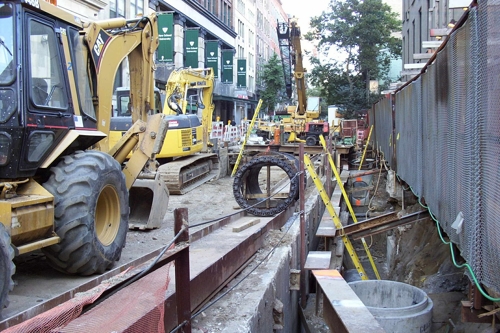 New York City construction projects are being hit with surprise visits.
Given the rise in construction-related injuries, building inspector Nolan Gutierrez and his team are showing up unannounced at different sites throughout the five boroughs to crack down on any safety violations that would place any construction worker or pedestrian in harm's way.
Previously, all inspections were conducted by way of appointment. However, this new spontaneity is keeping everyone on their toes and that is reportedly paying off. "Construction injuries fell by 26 percent to 437 from 590 in the same period the year before," notes The New York Times.
"It's a total game-changer," said Melanie La Rocca, the Commissioner of the City's Department of Buildings. "This is the first time that we've had a unit dedicated to 100 percent proactive visits to larger construction sites."
The inspection process is performed by 38 men and women who are well-versed in construction safety. The goal is to add 15 more people over time. Some 20,166 surprise inspections were done at 10,256 sites and more than 11,000 violations were issued -- which has generated $15 million in fines. While the surprise visits annoy some, most appreciate that the inspections are for the public good.
"We need to prevent accidents," said construction worker Pedro Flores. "It's the best for everyone."
# # #
To read the New York Times full piece, click here.
# # #
For the latest updates, follow Newman Ferrara on Twitter, Facebook, and LinkedIn.