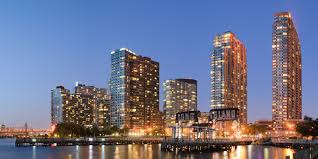 Amazon was set to significantly change Long Island City's landscape. The company's plan was to hire 25,000 tech workers with an average salary of $150,000 per year. And, as you can well imagine, the local economy would have benefitted dramatically.  But some New Yorkers were displeased and thought the Mayor and Governor were over-accommodating the billion-dollar company, and that backlash forced Amazon to retrench and reconsider its decision.  
"While polls show that 70% of New Yorkers support our plans and investment, a number of state and local politicians have made it clear that they oppose our presence and will not work with us to build the type of relationships that are required to go forward with the project we and many others envisioned in Long Island City," Amazon noted in a statement.   
Crain's characterized the split as a "multibillion-dollar" breakup. 
During the three-month period Amazon was in talks with local officials, there was a "spike" in real-estate contracts throughout the immediate area.   When Amazon announced it was pulling out of the deal, that "sugar rush" came to an end.  But, oddly enough, the demand for real estate remains high. 
"StreetEasy predicted in September that Long Island City would be New York's next 'million-dollar neighborhood,'" reads Crain's.  And, sure enough, the median asking price for homes last quarter were up from 7.5% from the same period last year.  While Manhattan prices fall, LIC home prices continues to rise – as young adults look for more affordable places to live. 
"People used to mistake Long Island City for Long Island. Now people across the country know it," Said Patrick W. Smith, a broker with Corcoran. "Obviously we were not ultimately successful in landing Amazon, but there is something to be said for the PR value of the process."  
# # # 
To view a copy of the StreeEasy report, use this link: https://streeteasy.com/blog/2019-nyc-housing-predictions/ 
# # # 
Should you require assistance with a real estate transaction of any kind, please do not hesitate to contact one of our attorneys, by calling 212-619-5400. 
# # # 
For the latest updates, follow Newman Ferrara on Twitter, Facebook, and LinkedIn.