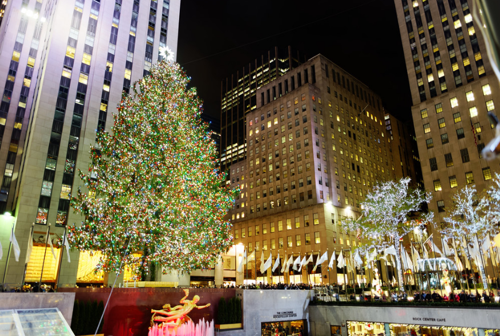 The Rockefeller Center Christmas Tree lighting, which took place on December 4, has been a holiday tradition for some nine decades.
Did you know, the first tree was erected back in 1931, during the Great Depression? And that at that time, the tree was intended to bring hope and joy to those impacted by the country's then immense financial turmoil.
"From the beginning, the Tree was a gathering place and reflection of what was happening in the world around it," reads the Rockefeller Center website. "Even before the first formal tree went up, workers lined up beneath a Christmas tree on the Rockefeller Plaza construction site to collect their paychecks during the height of the Great Depression."
The annual tree lighting ceremony first started in 1933. And the opening of the ice rink, in 1939, only added to the Center's popularity.
During World War II, the tree was transformed into a patriotic symbol with red, white, and blue ornaments. "In 1942, no materials needed for the war could be used on the tree, and instead of one giant tree, there were three smaller ones, each decorated in one of the flag's three colors," reads 6SQFT.
The "30 Rock" website claims that half a million people pass the tree each day. And it's readily recognizable to most, as it has been featured in a number of motion picture films, such as Home Alone 2: Lost In New York, and Elf. And the lighting ceremony (watched by millions of viewers) has been broadcast on NBC since 1951.
And once the holiday celebrations are over, in a partnership with Habitat for Humanity, the tree is milled and used to build homes for families in need. (That tradition inspired a children's book, The Carpenter's Gift, written by Jim LaMarche.)
Next time you're in the Rockefeller Center area, stop by and visit one of the City's greatest symbols of holiday joy and national pride.
# # #
To read more about the history of the Christmas tree, please click here: https://www.rockefellercenter.com/holidays/rockefeller-center-christmas-tree-lighting/