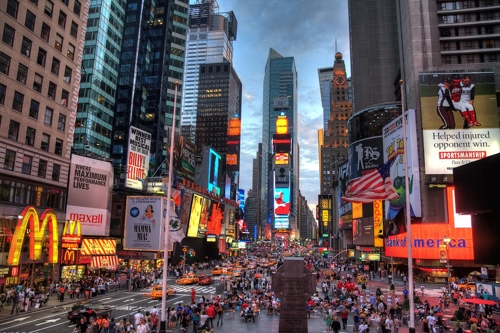 "Times Square is like having stores in the middle of Disney World," commented Jeffrey Katz, chief executive of Sherwood Equities.  (Katz's real estate group owns the property that houses the area's M&M store.) 
The heart of Times Square, which stretches from 42nd to 47th Streets, attracts tourists from around the world.  "Th[at] five-block area is an inspiration to mall landlords and shopping-center owners across the U.S., which have been adding attractions such as amusement park rides and drag shows to lure people away from online shopping," reads the Wall Street Journal.  
A case in point is the new American Dream in East Rutherford, New Jersey. That mega-mall includes a ski-slope, a roller coaster, and a wave pool. That's in addition to the many shopping options. 
"Stores have to do more than set up shop," according to C. Bradley Mendelson, the Vice President at Colliers International. And that appears to be the advice New York City's first Nordstrom's is following.  This new luxury retail space is luring in customers by way of a heavy social media presence and is also allowing alcohol to be sold and consumed throughout the store. 
"The Times Square district hasn't been immune to the drag on retail as shoppers shifted their buying online," reads the Journal.  Store availability has risen 8.9 percentage points in the third quarter from the previous year.  
Times Square has seen closings of the NFL Experience in 2018, a short time after it opened. Forever 21 recently declared bankruptcy, which will force Vornado Realty Trust, the property owner, to "accept a rent cut for the company's Times Square store."  
Overall, retail rents are down. However, because Times Square is a prominent tourist attraction (recording some 65 million visitors in 2018, according to the WSJ), companies are still signing long-term leases. (M&M World signed a 15-year lease, and The Hard Rock Café recently renewed their lease for 17 years.) 
# # # 
Should you require assistance with a real estate transaction of any kind, please do not hesitate to speak with one of our attorneys at 212-619-5400. 
# # # 
For the latest updates, follow Newman Ferrara on Twitter, Facebook, and LinkedIn.