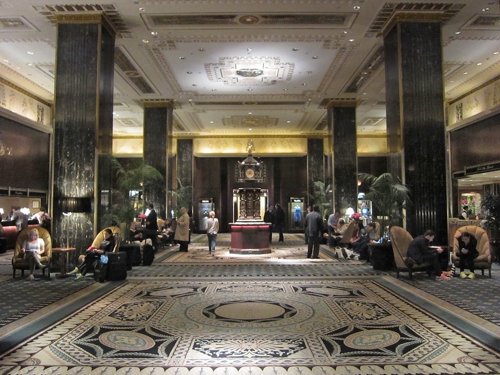 When walking down Park Avenue, you may wonder why the Waldorf-Astoria is shuttered.   
Closed since 2017, the hotel is now at the end stages of a $1 billion renovation and the owners are getting ready to market the property's 375 hotel rooms and residences for 2021 occupancy. 
Established in 1931, the hotel was one of its kind. "Its opening was such an event that on Sept. 30 of that year, President Herbert Hoover delivered a radio address to mark the occasion, congratulating the builders and forecasting a new era of growth and prosperity for the country," noted the Wall Street Journal.  Every President from Herbert Hoover to Barack Obama has stayed at the property. 
Now owned by China-based Anbang Insurance Group, it was acquired for some $1.95 billion -- a record for a U.S. hotel -- with the intention of restoring the premises to its former glory.  However, the weak NYC real-estate market has posed a bit of a setback. As WSJ reports, in addition to an oversupply of luxury high-rise condos, the City's new mansion tax (directed towards wealthy homebuyers) is a disincentive for many purchasers.  But there is hope that the Waldorf-Astoria brand will sell itself. 
"The developers are hoping the project's rich history outweighs any concerns," reads the Wall Street Journal. "The Waldorf never had a formal for-sale component, but many of its tower suites were intended for long-term residency." 
The re-opening is expected to be a major event. And purchasers and guests will reportedly have access to some incredible amenities, including an 82-foot lap pool and a state-of-the-art fitness and spa facility.  
We can't wait to read what Vanity Fair has to say about the new Waldorf-Astoria.
# # # 
Should you require assistance with a real estate transaction of any kind, please do not hesitate to contact one of our attorneys at 212-619-5400. 
# # # 
For the latest updates, follow Newman Ferrara on Twitter, Facebook, and LinkedIn.