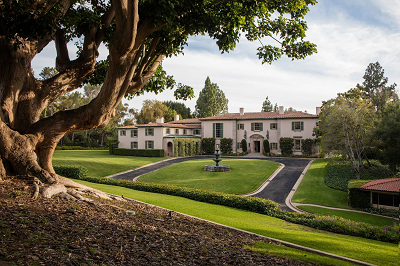 What do famed music duo Sonny & Cher, Tony Curtis, and Marilyn Monroe all have in common?
All four lived at the Owlwood Estate at one point, or another.
Located in Holmby Hills, right next to Beverly Hills and Bel Air, the estate is situated on one of the most sought after neighborhoods in Los Angeles.
And while the $115 million asking price may seem mind-blowing, it's actually a 44% reduction from the previous ask of a whopping, $180 million.
Designed in 1936, by architect Robert D. Farquhar, the location was meticulously chosen by the original developer and visionary behind Holmby Hills, Arthur Letts, for his personal use. (At one point, the 12,201-square-foot home was the largest private residence in L.A.)
Before Curtis moved in, the property belonged to Joe Schenck, chairman of 20th Century Fox, who allegedly had a brief affair with Marilyn Monroe, and even moved her into the guest house.
In 1966, the Oscar-nominated actor, Tony Curtis, bought the renaissance style home, later saying: "It was the grandest house I ever owned."
After Curtis's tenure, Sonny & Cher purchased the property in 1974, for a cool $750,000 (about $4 million in today's dollars), after Cher fell in love with the property while attending one the many house parties Curtis hosted over the years.
The power couple lived at the Owlwood Estate throughout the 1970's, enjoying the estate's privacy and seclusion.
Inside, the home boasts 9 bedrooms, ten baths, multiple marble fireplaces, an eye-popping spiral staircase, and an impressive grand foyer. The estate also comes with modern amenities, such as an elevator.
The grounds also contain two guest houses, a pool built by Olympic swimmer and former owner of the estate, Esther Williams, and also features a full-sized tennis court, lush gardens that span across three lots and border the Los Angeles Country Club.
We can't wait to find out who will occupy the "The Crown Jewel of Holmby Hills," next.
To view the listing, please use this link: https://www.toptenrealestatedeals.com/homes/weekly-ten-best-home-deals/2019/07-25-2019/1/
Should you require assistance with a real-estate transaction, please do not hesitate to call one of our extremely capable attorneys at 212-619-5400.