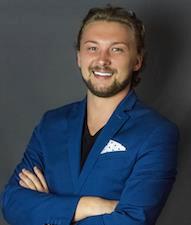 Memphis, Tennessee - - home of Elvis, the "King of Rock n' Roll," and pretty boy, Justin Timberlake - - "is the place to be," according to real-estate veteran, Jeffrey Smith.
Jeffrey began his real-estate career at 19-years-of-age and by 25 had opened up his first real-estate company, JASCO Realtors.
When he started JASCO, Jeffrey was the youngest real-estate owner-broker in the nation.
Fast-forward to 2019, and Jeffrey orchestrated a merger between JASCO and Keller Williams, to create one of the largest real-estate brokerage offices in the Mid-South, with over 300 agents.
Now, a rising star in the real-estate industry, we had the pleasure of chatting with Jeffrey about his hometown. Not only does the "City of Blues" have great BBQ, a lively music scene, and a diverse population, but Memphis also played a pivotal role in the civil rights movement. In fact, it was here, the evening before his assassination, that Dr. Martin Luther King delivered his "I've been to the Mountaintop" speech.
Q. As someone who has never been to Memphis, or Tennessee, for that matter, can you describe what it's like?
A. I've only ever lived in Memphis, and was born and raised here. So, just from traveling, and coming back to Memphis, I'll tell you one of the biggest things that people will say or notice, is that we have a lot of trees. Many metropolitan cities don't have much landscaping or trees. But, more importantly, we're not as big as people may think. You can get from one side of the city to the other, in less than 45 minutes.
Q. Some say, "Forget Memphis, Nashville is the place to be." How do you respond to that?
A. Nashville is a great city with lots of history and music which shape the culture, like the way Memphis's culture is shaped by its history and music. Locals will often refer to Memphis as a "big, small-town," meaning we have the amenities of a large city, but the feel and community interaction of a small town. It's not quite an "everybody knows everybody" situation, but close.
Since Nashville's housing prices continue to rise, Memphis is the more affordable option. You'll get more real estate for your money and a lower cost of living. That's why many large funds and out-of-state investors continue to seek out Memphis properties.
Q. Have you seen any dramatic shifts in the local real-estate industry over the last decade?
A. From the time I started to now, there's been a huge market shift. The average home sales price in Memphis is about $175,000, give or take. Now when I got into the business, the market was just starting to come back up. So, it was like $120,000. But first time homebuyers, nowadays, are at the $200,000 price range, just because the cost of living is a lot less than other places.
To give you an example, a $200,000 house in Memphis, is a $500,000 or $600,000 home somewhere else. And depending on where it is, will get you at least 2,100 square feet.
Q. How do home prices compare to Nashville?
A. We are much cheaper than Nashville.Since there are so many people trying to obtain homes in Nashville, prices just keep going up. The dollar goes a lot further here because our home prices have not appreciated as much.
In fact, Memphis attracts a lot of outside real-estate investors because they see that the cost of living is very reasonable, and that we also have large companies like Kellogg's, FedEx, Warren Buffet's railway system, and a couple of Amazon distribution centers, based here.
Q. Is the true the Memphis real-estate market is depressed? What have market values been like over the years (up or down)?
A. Memphis real estate market is not depressed. While the sales - - the number of units sold - - have decreased due to lower inventory volume, just as many parts of the country are experiencing the same phenomenon, sales prices have generally increased, at various rates, depending on the area.
Q. Let's say I just graduated from college and I want a one bedroom home.      What is the median price range?
A. For a one bedroom, you are most likely looking at a condo rental, which would be more downtown. A one bedroom would run you about $800 to $1,000 per month. However, not a lot happens downtown and Memphis doesn't have a lot of one-bedroom residences; rather, we have a lot of three-bedroom, three-bath, or, two-bedroom, one-bath homes.
Q. What are the biggest hurdles for first-time homebuyers?
A. A lot of times, people might have the funds for a down payment, but they don't understand there are other costs involved in purchasing a home, like closing costs, mortgage payments, and insurance. Also, many first time homebuyers don't know where they stand with their credit.
The biggest thing would be educating buyers on making sure they have a good credit history.
Q. Are there a lot of first-time buyers without credit?
A. Yes, many people don't have credit cards and if they do, they don't handle them correctly. We have a lot of students, and we have a lot of NBA players and athletes, that are from Memphis. They may have money, but they don't know how to invest it, or don't know what they need to do to build their credit in order to buy a home.
Q. Is Memphis more of a buyers' market or sellers' market?
A. Right now, it's a seller's market. While inventory is down, the demand has remained the same or is even higher. So, obviously, when there's much less product to buy, prices go up. From last year to this year, we've seen a slight decrease in the number of homes or units on the market. So the average sales price has actually increased.
Q. What if I want a little more luxury? What can I get for a million bucks? And, if a million won't do it, how much do I need to spend to live the "vita loca?"
A. $1 million can usually get you 5 bedrooms, 4+ baths, 3+ car garage, 5000-7000 square feet, and, a pool was also included in about 50% of the active listings at that price point. Most of these listings are also on at least 1+ acres of land.
If you buy a $1 million home further in the country, you can usually get 20+ acres.
Q. Should our readers consider retiring in Memphis? If so, why?
A. The cost of living in Memphis is very affordable. The weather is usually mild, compared to the winter in northern states. Memphis is a central location – you can usually fly to most large-city destinations within two hours. It's also a short driving distance to other cities like Little Rock, Nashville, St. Louis, and New Orleans.
Fun Fact: Memphis actually borders three states: Central Memphis is adjacent to Tennessee, West Memphis is near Arkansas, and Memphis metropolitan area is right next to North Mississippi.
What are you waiting for? Start packing!
***
Jeffrey can be reached at: https://www.kw.com/kw/agent/jas584