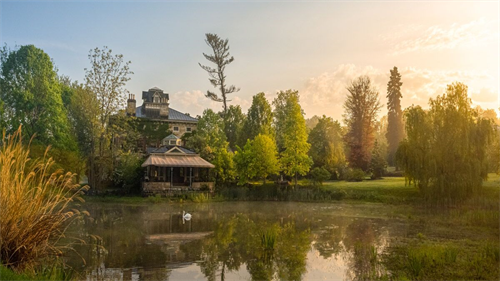 Sitting on nearly 1,200 acres of land in Foxburg, Pennsylvania, stands one of the East Coast's most historic properties.
Priced at $15 million, the land was purchased by James Fox in 1685 (James is the brother of Quaker-founder George Fox) from William Penn, the founder of the State of Pennsylvania.
The Fox family acquired their wealth by owning vast tracts of land and by kick starting the state's petroleum industry. They also employed hundreds of people, including Benjamin Franklin, as a young accountant.
At the apex of the 1800's, the Fox family began to build their extensive homestead in western Pennsylvania as a summer home. The original structure took 8 years to complete, and consisted of five bedrooms, a barn, and a wine cellar.
Over the years, renovations included four powder rooms, a conservatory, music room, 17 fireplaces, and an English-style pub.
In total, the property consists of a whopping 26 structures, with several more homes, a fairytale-like carriage house, a timber-stone cottage, chicken house, sugar house for the estate's maple syrup, and several barns.
The family continued to own the property until 1964, and it has since passed through many owners. In 2002, the mansion was deconstructed and renovated to include modern amenities and stunning interior elements, such as gorgeous hardwood floors and a massive country-style kitchen.
Last, but not least, the estate also offers 23 ponds, miles of hiking trails, several golf courses, and an equestrian center.
To view this listing, please use this link: https://www.toptenrealestatedeals.com/homes/weekly-ten-best-home-deals/2019/07-22-2019/1/
Should you require assistance with a real-estate transaction, please do not hesitate to call one of our capable attorneys at 212-619-5400.