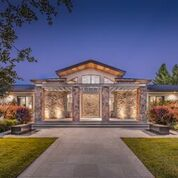 The widow of Lamar Hunt, the late Kansas City Chief's founder and one of pro football's most important figures, has just put their Napa Valley estate on the market for $19.95 million.
Back in 2000, the couple acquired the 40-acre plot of land in Knights Valley, California, with a dream of developing a vineyard with Cabernet Sauvignon vines. That same year, they built their 6,615-square-foot, three-bedroom home, and, a mere two years later their first block of vines shot up.
Over the years, their vineyard has received national acclaim for its label, Perfect Season Cabernet. In fact, their 2016 batch sells for around $150 a bottle and even boasts a Robert Parker 96+ point rating (which is pretty respectable given that Robert Parker's rating system employs a 50-100 point quality scale for wine).
The estate's open-floor plan allows for an abundance of natural light and its glass walls offer breathtaking views of the vines and surrounding mountains. Huge floor-to- ceiling fireplaces can be found in the main living area, master suite and lounge area next to the fully equipped outdoor kitchen. The home also boats five baths, an office, gym, large kitchen, and wine cellar perfect for hosting tasting events.
Even though Mrs. Hunt is selling the property, she is holding onto her most prized possession: the wine label.
A Dallas native, Mr. Hunt (who passed away in 2006), was well-known as a sports pioneer, and during his lifetime went on to found the American Football League, Major League Soccer, North American Soccer League (NASL), and co-founded the World Championship Tennis. He is also widely credited with coining the term "Super Bowl."
To view the listing, please use this link:https://www.toptenrealestatedeals.com/homes/weekly-ten-best-home-deals/2019/07-08-2019/1/
Should you require assistant with a real-estate transaction, please do not hesitate to call one of our capable real-estate attorneys at 212-619-5400.