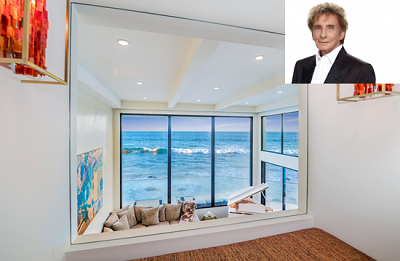 It looks as if the owners of Barry Manilow's Malibu beach house are ready to "say goodnight and move on," after relisting the property for $10.375 million; a $5,755,000 discount off its previous asking price.
Nicknamed the "Barry House," by "Fanilows," the house was a place where Barry could escape his demanding schedule of songwriting, performing, touring, and producing jingles for mega corporations like McDonald's and State Farm.
Known for those BBB's ("Big Barry Ballads"), Manilow rose to stardom for his sappy, romantic melodies, and, with the release of "Mandy," a number one Billboard Pop single in 1971, he became a pop sensation. (He continued to produce several hit albums through the early 2000's.)
Tired of Palm Springs and feeling that "Big City Blues," Barry purchased the beachside property at the end of the 1990's, and sold his desert place in 2006.
This modern, beachfront, 4,320 square feet house boasts breathtaking 180-degree views of the Pacific Ocean via its massive, floor-to-ceiling glass walls. With five bedrooms, five baths, a self-feeding fish tank in the entry, media room, and a detached fully-equipped guest house, the property is nothing short of spectacular.
The guest house is connected to the main, two-story house vis-à-vis a garden, which features an outdoor kitchen, dining area and living area spacious enough for large-scale entertaining. There's also a hot tub, which Barry would say "whirls like a cyclone," and an outdoor shower.
Because it offers exclusive beach-front access and easy entree to the Soho Beach Club, and Nobu, we have a feeling the new owners will soon be singing, "Looks like we made it!"
To view this listing, please use this link: https://www.toptenrealestatedeals.com/homes/weekly-ten-best-home-deals/2019/07-11-2019/1/
Should you require assistance with a real-estate transaction, please do not hesitate to call one of our extremely capable attorneys at 212-619-5400.