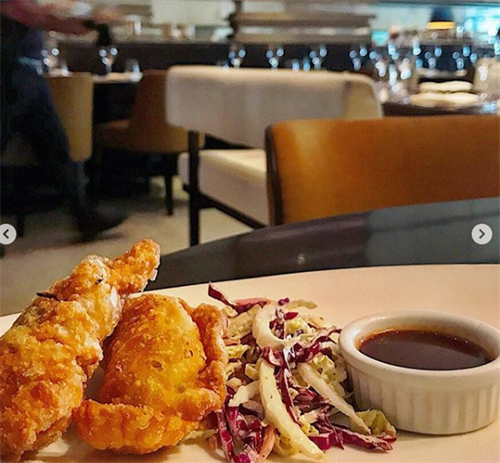 Bck in 2008, Restaurateur David Tornek and Chef Sean Brasel opened a Miami Beach restaurant called "Meat Market." And over the last decade or so, their "contemporary" steakhouse has become a popular Lincoln Road destination; a mainstay, of sorts.

Because they have offshoots in San Juan, and Palm Beach, with a Tampa location slated to open this summer (2019), we wanted to see if their concept has withstood the test of time (and the expansion of their franchise).

At Miami Beach, the restaurant offers a $26 two-course lunch which includes an array of appetizers, such as a daily soup, salmon corn fritters (reviewed yesterday), salads, along with some fish and meat options (at an additional charge).

As for our first course, we also chose a "SLOW BRAISED EMPANADA DUO" — short rib with fontina cheese, and beef with cheddar, served with spiced cabbage and pickled red onion slaw.

While it all sounded enticing, we thought it would have been nice if the menu (or our server; someone) had mentioned that these empanadas were fried. (As some at the table had dietary restrictions, the silence was not appreciated, and cost the dish some significant points.)

If also didn't help that the meat embedded within the pastry was disappointingly drab and dry. (We also couldn't taste or see the cheese.) Because nothing in this dish work for most of us, it scored a low "C." (A lone holdout skewed the score upward, significantly. She has been placed on "dinner probation," until such time as she has her taste buds checked out by a medical professional.)