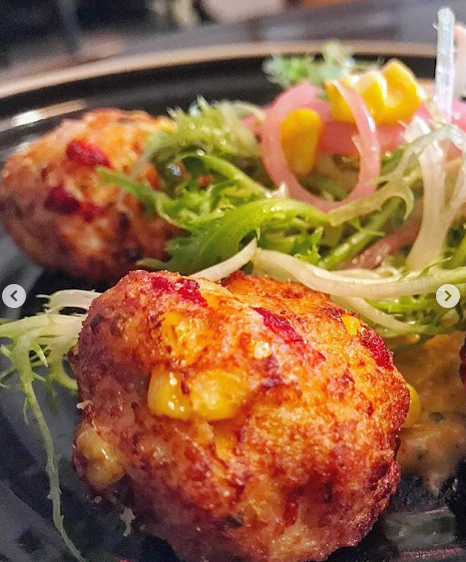 Restaurateur David Tornek and Chef Sean Brasel opened Meat Market (the one in Miami Beach) back in 2008. Over the last eleven years, their "contemporary" steakhouse has become a popular Lincoln Road destination, and is often showered with glowing reviews.

Because the duo has also set up shop in San Juan and Palm Beach, and will be opening a place in Tampa (summer 2019), we wanted to see if their concept has withstood the passage of time (and the expansion of their franchise).

When we stopped by their Miami Beach location, the restaurant was offering a $26 two-course lunch which includes a pretty wide array of appetizers, such as a daily soup, slow-braised empanada duo, and salads (together with some fish and meat upgrades).

Don't ask me why, but we started with the "SALMON CAKE FRITTERS" — pickled frisée corn salad, spiced tartar sauce.

Even though they were visually appealing, the slightly over-fried golden brown fitters came out lukewarm, a bit greasy, and we couldn't discern the taste of any salmon. (The sweetness of the corn overpowered the fish, making it more of a "corn fritter," than anything else.)

While my dining companions didn't think they were awful, they weren't particularly great, either, so we weren't too surprised when this item landed a "B-" — which in the scheme of things, wasn't too shabby a score.