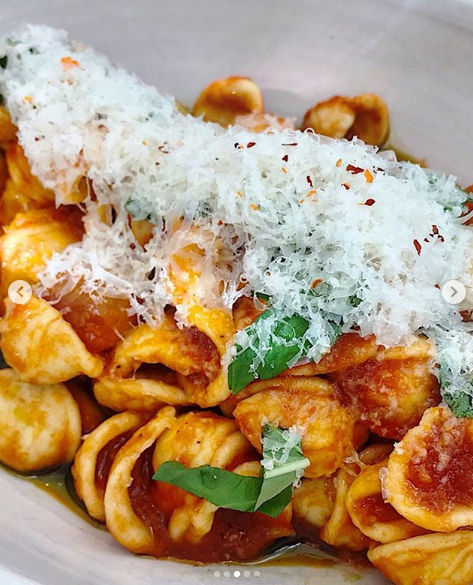 Since we were already at Market at EDITION (Miami Beach), we thought we'd stay and try one of Chef Jean-Georges Vongerichten's "Mains" — the Orecchiette, with tomato sauce, fresh mozzarella and basil ($24).

While the ear-shaped pasta was perfectly cooked, and the tomato sauce tasted fresh and savory, the mozzarella, killed the dish; as it was neither fully melted nor well integrated. (We found it clumped to the side of the plate (last photo)).

Even though it's an informal, food-hall inspired space — "part patisserie, part boulangerie and part salumeria" — our expectations were high. After all, the calamari (reviewed last week, before my account was blocked) was outstanding, and the Chef's portfolio includes critically acclaimed restaurants around the world. (You'll find him in Chicago, Doha, Jakarta, Las Vegas, New York, Paris, Shanghai, Tokyo and Vancouver ... just to name a few major locations.).

Against that backdrop, we were hoping for something velvety smooth, and sublime. We got rubbery hard, and uninspired.

Because we were also taken aback by the $24 ask, for such a puny potion of pasta and cheese, this dish forfeited yet additional points, and ended up with a "C-" — just points away from a fail.