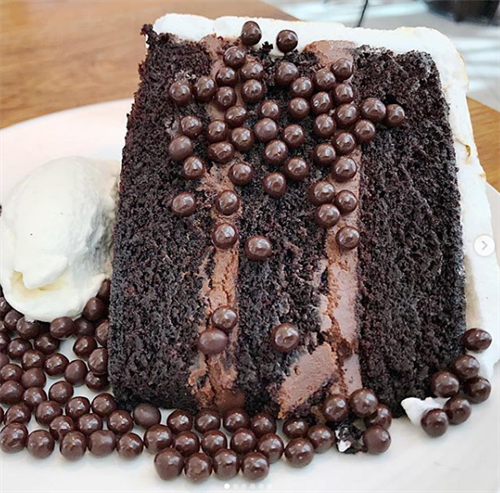 Chef Jean-Georges Vongerichten, a renowned French-American chef and cookbook author, has critically acclaimed restaurants around the world. (You'll find him in Doha, Dubai, Las Vegas, London, New York, Paris, São Paulo, Shanghai, and Tokyo (among other places)).

While we were in Miami Beach (Collins Avenue), we stopped into "The Market at Edition," his informal "food-hall inspired" establishment, to give a few of his dishes a try.

While his "happy hour" calamari (reviewed last week), were enjoyable, his "Orecchiette" pasta (reviewed yesterday) was a total letdown.

Unfortunately, his dessert fared no better.

Even though, at first glance, it presented quite well, we found his "Chocolate Marshmallow Cake with Melted Ganache" ($9) bready and dry. (It tasted as if it had been sitting around for a few months.)
Your hope was for a moist, rich and dense chocolate flavor, paired with a gooey melted marshmallow ... but, basically, we got a "brownie gone bad." (The marshmallow topping was overly airy and virtually tasteless.)

Because the chocolate lovers among us were sorely disappointed, this sorry stuff scraped by with a "C-," narrowly missing an "F" by just a few points.