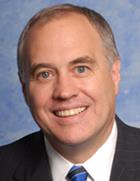 DiNapoli Announces Oil Spill Fund Agreement With St. Lawrence County
Abandoned Gas Station to Be Converted to Community Green Space
New York State Comptroller Thomas P. DiNapoli recently announced an agreement between the New York Environmental Protection and Spill Compensation Fund (Oil Spill Fund) and St. Lawrence County to convert the site of an abandoned auto repair garage in the Village of Canton into a community green space with access to the Grasse River. The county and village have entered into a separate agreement as part of the deal.
The property is considered a key link in the development of the village's Riverside Renaissance Project, an initiative to create open space and recreation opportunities along the Grasse River as part of broader revitalization efforts.
"We work closely with local government officials to turn abandoned property into assets for their communities," said DiNapoli. "Our partnership with St. Lawrence County has helped remediate polluted parcels and turn them into safe places for residents to enjoy. This project is a good example of how state and local governments can collaborate to restore contaminated land to public use."
The Oil Spill Fund, which is administered by DiNapoli's office in coordination with the state Department of Environmental Conservation (DEC) and the Office of the Attorney General (OAG), pays for the cleanup of petroleum contamination when the parties responsible either cannot be identified or refuse to clean up or pay. The OAG subsequently assists in recovering costs expended from the Fund from such parties. For this project, the village of Canton will demolish the existing building and then landscape the parcel. The DEC will oversee the cleanup efforts. This combined effort will ensure that the property is a safe place for residents to enjoy.
The agreement is part of a wider statewide effort by the Comptroller and Oil Spill Fund to partner with the DEC, the OAG, and local communities to accelerate cleanup activities and return properties to beneficial use.
"St. Lawrence County is thankful for the generous partnership and support we have received from Comptroller DiNapoli and the Oil Spill Fund," said Kevin Acres, chairman of the St. Lawrence County Board of Legislators. "Without the assistance of the Comptroller and the Fund, many of these properties would have remained dormant and blighted within our various communities. The state's help has made it possible for us to return these parcels to productive use."
About the Oil Spill Fund
The Oil Spill Fund is responsible for protecting the environment and public health by ensuring the expeditious cleanup of petroleum spills. The Fund, which was established in 1978, is also used to compensate spill victims for their financial losses when the spiller will not and to seek reimbursement from spillers for oil spill cleanup costs. Learn more about the Oil Spill Fund here: http://osc.state.ny.us/oilspill/