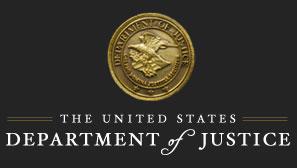 Former Head of HSBC's Global Foreign Exchange Cash-Trading Sentenced to Prison for Multimillion-Dollar Front-Running Scheme
The former head of global foreign exchange cash trading at HSBC Bank plc, a subsidiary of HSBC Holdings plc (collectively HSBC), was sentenced to prison for his role defrauding an HSBC client through a scheme commonly referred to as "front running." The Court remanded Johnson to the custody of the Bureau of Prisons.
Acting Assistant Attorney General John P. Cronan of the Justice Department's Criminal Division, U.S. Attorney Richard P. Donoghue of the Eastern District of New York, Inspector General Jay N. Lerner of the Federal Deposit Insurance Corporation (FDIC) and Assistant Director in Charge Nancy McNamara of the FBI's Washington Field Office made the announcement.
Mark Johnson, 51, a United Kingdom citizen, was sentenced to serve 24 months in prison by U.S. Distict Judge Nicholas Garaufis of the Eastern District of New York. In addition, Judge Garaufis ordered that the defendant pay a fine of $300,000. A federal jury convicted the defendant on Oct. 23, 2017, following a four-week trial, of one count of wire fraud conspiracy and eight counts of wire fraud.
"Mark Johnson, an executive at one of the world's largest financial institutions, cheated his client out of millions and now he's going to prison for it," said Acting Assistant Attorney General Cronan. "This sentencing should serve as a warning to those who engage in crooked financial schemes: The Justice Department's Criminal Division and our law enforcement partners are watching. We are committed to protecting our financial system from harm and we will hold corporate executives accountable for their crimes."
"Mark Johnson exploited confidential information and betrayed a client in order to generate profits for HSBC and enrich himself," stated United States Attorney Donoghue. "Johnson has been held accountable for his crimes and today's sentence should serve as a deterrent to fraudsters seeking to cheat their victims by manipulating important benchmarks, such as the FX spot fixings. This Office, together with our law enforcement partners, is committed to bringing to justice those who undermine public confidence in the operation of the financial markets through such schemes."
"Today's sentencing holds Mr. Johnson accountable for his egregious conduct to improperly manipulate the foreign currency market, misuse his position, and breach the customers' trust," said FDIC Inspector General Lerner. "We are dedicated to working with our law enforcement partners in order to combat crimes that undermine the integrity of financial institutions and bring culpable bank insiders to justice."
"Leaders of financial service organizations such as HSBC are held to the utmost standard of integrity, which Mark Johnson failed to uphold," said Assistant Director in Charge McNamara. "The FBI will not falter in assuring that justice will be brought to those that use company finances for their own personal gain."
According to the evidence presented at trial, in November and December 2011, Johnson cheated an HSBC client out of millions of dollars by misusing information provided to him by that client, which had hired HSBC to execute a foreign exchange transaction related to a planned sale of one of the client's foreign subsidiaries. HSBC was selected to execute the foreign exchange transaction – which was going to require converting approximately $3.5 billion in sales proceeds into British Pound Sterling – in October 2011. HSBC's agreement with the client required the bank to keep the details of the client's planned transaction confidential. Instead, Johnson misused confidential information he received about the client's transaction to cheat the client out of millions of dollars, the evidence showed.
Shortly before the transaction, Johnson and other traders acting under his direction purchased Pounds Sterling for their own benefit in their HSBC "proprietary" accounts. Johnson then caused the $3.5 billion foreign exchange transaction to be executed in a manner that was designed to "ramp," or drive up, the price of the Pound Sterling, benefiting their proprietary positions and HSBC at the expense of their client. As part of the scheme, Johnson and his co-conspirators also made misrepresentations to the client about the transaction that concealed the self-serving nature of their actions. The evidence showed that in total, Johnson and the traders he supervised generated HSBC profits of roughly $7.3 million from the execution of the transaction, including profits generated from the front-running conduct.
The investigation was conducted by the FDIC's Office of Inspector General and the FBI's Washington Field Office. Assistant Chiefs Carol L. Sipperly and Brian R. Young and Trial Attorney Blake Goebel of the Criminal Division's Fraud Section and Assistant U.S. Attorney Lauren Elbert of the Eastern District of New York's Business and Securities Fraud Section are prosecuting the case.
The Fraud Section plays a pivotal role in the Department of Justice's fight against white collar crime around the country, focusing on cases of national significance and international scope. Fraud Section prosecutors have vast experience in investigating and prosecuting securities and financial fraud, health care fraud and foreign corruption. The Section is routinely the national leader in large, sophisticated white collar investigations and prosecutions, frequently in partnership with U.S. Attorneys' Offices and in coordination with foreign law enforcement agencies. Learn more about the Criminal Division's Fraud Section at: https://www.justice.gov/criminal-fraud.