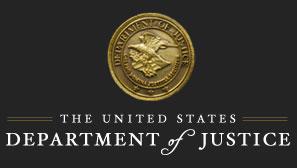 Fifth Defendant in Multi-State Dog Fighting Prosecution Sentenced to 24 Months in Prison
Asbury Park, New Jersey Defendant Sentenced As Part of Operation Grand Champion
The fifth defendant to plead guilty in a multi-state dog fighting case was recently sentenced in federal court in Trenton, New Jersey, for his role in dog fighting activities that took place in New Jersey and Virginia. Acting Assistant Attorney General Jeffrey H. Wood of the Justice Department's Environment and Natural Resources Division and U.S. Attorney Craig Carpenito of the District of New Jersey made the announcement.
U.S. District Judge Peter G. Sheridan sentenced Mario Atkinson, 42, of Asbury Park, New Jersey, to serve 24 months in prison to be followed by three years supervised release, and a $1000 fine. Atkinson pleaded guilty on June 15, 2017, to one felony count of sponsoring and exhibiting a dog in a dog fight, and one felony count of unlawful possession of dogs intended to be used for the purpose of dog fighting.
Atkinson admitted that, in 2016, he had fought his dog in a dog fight in Virginia for a $1,000 wager. The investigation revealed that Atkinson's dog perished after the dog fight while Atkinson was driving home, and that Atkinson placed the dog's body in a trash receptacle. On June 1, 2016, agents seized 18 pit bull-type dogs from Atkinson. Some of these dogs had scarring and injuries consistent with fighting and were found near dog fighting equipment, including an electric human treadmill specially outfitted with side panels and a leash clip to force dogs to run on the treadmill. Agents also found blood splatters in three areas of Atkinson's basement that tested positive for canine blood.
Four other defendants in this case previously pleaded guilty and were sentenced to a total of 111 months in prison. Trial for the remaining four defendants in the case is set for October 8, 2018.
"Animal cruelty like the conduct in this case has no place in a civilized society," said Acting Assistant Attorney General Wood. "Today's sentencing sends a strong message that we are bringing to justice those who engage in illegal dog fighting and that anyone who engages in this conduct does so at the risk of significant jail time."
"Federal and local law enforcement agencies in New Jersey have ramped up their efforts recently to track down animal fighters and bring them to justice," U.S. Attorney Carpenito said. "We will continue to root out dog fighting in New Jersey and to work with our local and state partners to bring the offenders to justice."
"The provisions of the Animal Welfare Act were designed to protect animals from being used in illegal fighting ventures, which often entail other forms of criminal activity involving drugs, firearms and gambling," said Special Agent in Charge Bethanne M. Dinkins for U.S. Department of Agriculture's Office of Inspector General. "Together with the Department of Justice, animal fighting is an investigative priority for USDA OIG, and we will work with our law enforcement partners to investigate and assist in the criminal prosecution of those who participate in animal fighting ventures."
This case is part of Operation Grand Champion, a coordinated effort across numerous federal judicial districts to combat organized dog fighting. The phrase "Grand Champion" is used by dog fighters to refer to a dog with more than five dog fighting "victories." To date, 98 dogs have been rescued as part of Operation Grand Champion, and either surrendered or forfeited to the government. The Humane Society of the United States assisted with the care of the dogs seized by federal law enforcement. The government is represented by Trial Attorney Ethan Eddy of the Justice Department's Environmental Crimes Section and Assistant U.S. Attorney Kathleen O'Leary. The case is being investigated by the U.S. Department of Agriculture – Office of Inspector General, the U.S. Department of Homeland Security – Homeland Security Investigations, and the Federal Bureau of Investigation.