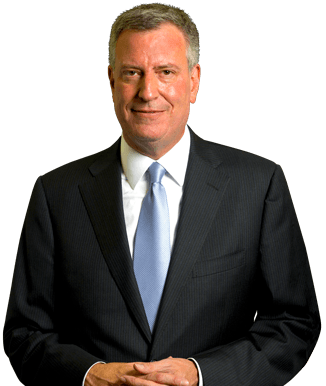 First Lady Chirlane McCray Announces Expansion of Mental Health Services for Domestic Violence Survivors to all Five Boroughs
City has invested $3.3 million to support the implementation of Mental Health Teams at all five of the City's Family Justice Centers to address the unique mental health needs of domestic violence survivors
First Lady Chirlane McCray, Commissioner Cecile Noel of the Mayor's Office to Combat Domestic Violence and NYC Health + Hospitals announced the expansion of Mental Health Teams at all five of the City's Family Justice Centers, with one in each borough. The City has invested $3.3 million to expand the Family Justice Centers holistic approach to mental health through trauma-informed psychotherapy and psychiatric services. The Mental Health Teams are an expansion of a program first piloted at the Bronx Family Justice Center in 2015 to deliver on-site clinical psychiatric services to survivors; a collaborative effort of ThriveNYC, the Mayor's Office to Combat Domestic Violence, NYC Health + Hospitals, the Department of Psychiatry at Columbia University Medical Center, sponsored by the Chapman Perelman Foundation.
The Mental Health Teams will provide onsite clinical psychiatric and psychological assessments for clients within the FJC collaborative framework. Each team will work with clients to develop individualized treatment plans, which may include individual therapy, group therapy, psychoeducation and medication management. Clients will be able to attend workshops where they will learn adaptive techniques for dealing with trauma. As of December 2017, more than 250 survivors of domestic violence have already received mental health services at the City's five FJCs.
"Nearly half of all women whose lives were lost last year occurred at the hands of an intimate partner - a grim reality nationwide as reported by the Centers for Disease Control and Prevention. That is why New York City continues to make early intervention and access to support for individuals a priority for those who have suffered trauma from intimate partner violence. The expansion of services will ensure survivors have greater access to the mental health services they need to heal," saidFirst Lady Chirlane McCray,Co-Chair of the Domestic Violence Task Force.
In recognition of pilot program's success, Mayor Bill de Blasio announced in 2015 that New York City would replicate this mental health service model to FJCs across the five boroughs.There is a wide body of literature documenting the link between domestic violence and mental health conditions such as depression, post-traumatic stress disorder and anxiety, as well as increased substance abuse and suicidal thoughts. Domestic violence programs that have incorporated on-site trauma-informed counseling have demonstrated that such programs have a significant impact on supporting survivors' emotional healing, strengths, resilience, and recovery.
"This Administration has an unwavering commitment to both assuring all New Yorkers have access to mental health services and all survivors of domestic violence receive the resources and support they need," said Dr. Herminia Palacio, Deputy Mayor for Health and Human Services. "Through this investment we will now ensure that our Family Justice Centers not only address critical safety needs of survivors, but also meet their mental health needs through a holistic approach. I am proud of our City agencies who are working together to make this a reality."
"Addressing the mental health needs of survivors is a critical part of safety planning, and our efforts to help survivors heal," saidCecile Noel, Commissioner of the Mayor's Office to Combat Domestic Violence. "The expansion of mental health programs into the FJCs ensures that survivors have even greater access to services that will help them move forward and rebuild their lives."
"Through the first adopters of our program, we've seen the meaningful impact of convenient access to behavioral health services for so many survivors of domestic violence," said Charles Barron, MD, Medical Director of Behavioral Health, NYC Health + Hospitals. "We are very pleased that these services are now available in all five boroughs."
"Survivors of IPV and their families often suffer with mental health needs as a consequence of trauma, but unfortunately face multiple barriers to accessing psychiatric and psychological services in traditional settings," saidElizabeth Fitelson, MD, Co-Director of the Women's Program at Columbia University. "Through our pilot partnership with the Chapman Perelman Foundation and OCDV, and now joining with a team of dedicated clinicians through NYC Health + Hospitals we have seen what a powerful positive impact providing collaborative, culturally appropriate care where survivors can access it has on survivors and their families." ``
"The Chapman Perelman Foundation has been proud to partner with Columbia University and the Mayor's Office on this important and unique initiative," saidAnna Chapman, MD, of the Chapman Perelman Foundation. "In addition to providing critical trauma-informed clinical services to survivors of domestic violence city-wide, Columbia University's team of psychiatrists and psychologists are helping to disseminate an awareness of the mental health needs of domestic violence survivors, to all of the service providers with whom they come into contact."
The Mayor's Office to Combat Domestic Violence manages the City's five FJCs in the Bronx, Brooklyn, Manhattan, Queens and Staten Island. The Centers serve as one-stop service centers to reduce barriers for victims of domestic violence, elder abuse, sex trafficking, and connect them to services in their language, regardless of immigration status, income, sex, gender identity, or sexual orientation. The City's Domestic Violence Hotline is available 24/7 and provides safety planning, referrals, and connections to emergency housing for victims of domestic violence. Individuals can contact the City's Domestic Violence Hotline at 1-800-621-HOPE.
The de Blasio administration is prioritizing new and innovative approaches and responses to domestic violence and launched the NYC Domestic Violence Task Force last year, an $11 million initiative, which is implementing a set of 32 recommendations for a coordinated, citywide strategy to combat domestic violence. Co-chaired by First Lady Chirlane McCray and NYPD Commissioner James O'Neill, the work of the Task Force is led by Elizabeth Glazer, the Director of the Mayor's Office of Criminal Justice, Commissioner of the Mayor's Office to Combat Domestic Violence Cecile Noel and the Task Force's Executive Director Bea Hanson.
New York City has made significant strides towards combating domestic violence and supporting survivors within the last year, including:
Signing Intro. 1313-A that expands paid leave to domestic violence, sexual assault, stalking and trafficking survivors to allow individuals the opportunity to tend to immediate safety needs without fear of penalty or loss of income.
Forming a new protocol to intervene on behalf of families in high-risk domestic violence cases, receiving prevention services from the Administration for Children's Services to be screened for risk factors and help develop safety plans – a recommendation from the NYC Domestic Violence Task Force.
Assisting FJC clients in housing related matters, in collaboration with the Office of Civil Justice. Domestic Violence Survivors can receive legal assistance or representation for eviction proceedings, rent arrears, foreclosures, housing discrimination and tenant harassment.
Expanding healthy relationship education to 128 middle schools throughout all five boroughs through the Early-Relationship Abuse Prevention Program (Early-RAPP). Additionally, through the Creating Awareness about Relationship Equality Program (CARE), which launched in 2016, more than 1,700 youth in foster care have participated in healthy relationship workshops.
"Building up the mental health skills and capabilities of staff working with people who have experienced trauma is crucial to ensuring better paths to recovery," said Health Commissioner Dr. Mary T. Bassett. "By increasing the ability of trusted Family Justice Center staff to respond to mental health needs, along with offering other social services, the City is making it easier for domestic violence survivors to get support. This is an exciting expansion of the work we're doing as part of ThriveNYC to ensure every New Yorker has access to mental health services."
"We know there is a critical need to ensure that survivors of domestic violence are able to receive mental health services and that we must identify every possible point of contact in order to reach them," said Elizabeth Glazer, Director of the Mayor's Office of Criminal Justice. "This is an important step in making sure that services are as accessible as possible."
"We're thrilled to see the partnership between the Chapman Perlman Foundation and the Mayor's Office to Combat Domestic Violence continue to grow, and thank you to the Chapman Perelman Foundation for their continued support of high-impact public programs," said Darren Bloch, Executive Director of the Mayor's Fund to Advance NYC, which connected OCDV to the Chapman Perelman Foundation. "The model of our City's Family Justice Centers`– also championed by the Chapman Perlman Foundation – have proven to be powerful hubs for integrating critical services and supports to New Yorkers at their most vulnerable. This integration of mental healthcare into the FJCswill provide another layer of vital care and healing when survivors need it most."
"As a society, we have a long way to go to address the scourge of domestic violence, which affects not only the physical health of survivors, but their mental health as well," said State Senator Liz Krueger. Accessible mental health services can be a life-saving intervention for those who have lived through domestic violence. Thank you to First Lady McCray, OCDV, and H+H for successfully providing holistic mental health services for domestic violence survivors in the City's Family Justice Centers."
"The effects of domestic and intimate partner violence don't end when someone reaches out for help. I applaud First Lady Chirlane McCray, the Office to Combat Domestic Violence and NYC Health + Hospitals for acknowledging that reality, and working to ensure the mental health needs of survivors are addressed through trauma- informed services," said State Senator Roxanne Persaud.
Domestic violence does not only leave physical wounds, but emotional and mental ones as well. It is encouraging that our City is expanding mental health services to Family Justice Centers across the five boroughs to ensure domestic violence survivors have the support and resources they need to heal," said State Senator Gustavo Rivera. "I commend First Lady McCray, the Mayor's Office to Combat Domestic Violence, and NYC Health + Hospitals for working together to establish a comprehensive initiative that will help domestic violence survivors deal with the trauma they have experienced."
"Mental health services are deeply important for all people to feel secure in accessing, and especially so for domestic violence survivors. As an advocate for suicide prevention, mental health treatment for communities of color, and for women's issues in general, I am so glad that the City will be expanding its mental health programming for domestic violence survivors. As a society, we must send the message that everyone should freely seek treatment without stigma," said State Senator Marisol Alcantara.
"The effects of domestic violence sometimes can't be seen. The stress and trauma from incidents can continue for long after. Thankfully the Mayor and First Lady will be providing much needed services," said Assembly Member Joseph R. Lentol.
"Domestic Violence no longer is "swept under the rug" but is confronted as it should be. Stomping out this once taboo subject is imperative, and allowing victims to stand up and take back their lives is a paramount objective that is now being accomplished successfully; largely due to programs put in place by our elected officials and their supporters. First Lady Chirlane McCray's efforts must not go unnoticed, her successful implementation of Mental Health programs and advisors at the many New York City Family Justice Centers allow for a much needed component of the healing and recovery process for victims of Domestic Violence. I applaud her efforts and encourage other to step forward and take part in our support of such programs," saidAssembly Member Jaime Williams.
"Providing comprehensive mental health support for survivors of domestic violence is absolutely essential to their full recovery. Survivors need this support to heal and move forward with their lives. Thanks to First Lady Chirlane McCray, the Mayor's Office to Combat Domestic Violence, and NYC Health + Hospitals, psychotherapy and psychiatric services will soon be available to domestic violence survivors via New York City's five Family Justice Centers. I commend the First Lady, the Mayor's Office, and NYC Health + Hospitals for leading the way on this profoundly important initiative," said Council Member Helen Rosenthal, Chair of the Committee on Women.
For more information about NYC OCDV, please visit http://www.nyc.gov/domesticviolence.