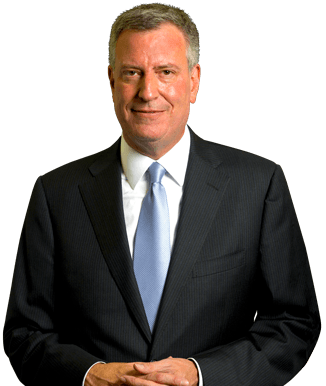 Mayor de Blasio Announces Construction of Lower East Side NYC Ferry Dock, Opening Summer 2018
Two new routes launching this summer from Lower East Side and Soundview will serve more than 1.4 million riders per year
Mayor Bill de Blasio and community leaders recently celebrated the start of construction on the Lower East Side's new NYC Ferry landing. The dock is one of four new landings for two new ferry routes slated to open this summer, shortening commutes for thousands of New Yorkers traveling to and from the South Bronx and Lower East Side. When service launches, nearby Lower East Side residents will have a 9-minute ferry ride to Wall Street or a 17-minute ride to Midtown, versus a 13-minute walk just to get on the nearest subway.
The Lower East Side Route will serve nearly one million riders annually traveling to and from Manhattan's Wall Street/Pier 11, Corlears Hook, Stuyvesant Cove, East 34th Street; and Long Island City, in Queens. The route is expected to substantially reduce travel times for more than 8,000 families living in four NYCHA developments, the Baruch, Jacob Riis, La Guardia and Vladeck Houses.
The Soundview Route, also launching this summer, will serve an estimated 400,000 riders traveling to and from the Soundview area of the Bronx, East 90th Street, East 34th Street and Wall Street/Pier 11 in Manhattan each year.
"Docks are under construction and new ferries are on the way for this summer's new service. Neighborhoods like the Lower East Side haven't had the transit options they deserve. We can't wait to launch two new ferry lines that will help New Yorkers get to work and to school, and to connect with their city," said Mayor Bill de Blasio.
"It's been less than a year since the first NYC Ferry boat carried its passengers from the Rockaways, and already this has become an established part of our city's transit. With two new lines and nearly one and a half million more passengers using the system this year, we're bringing more transit service to neighborhoods that need it," said Deputy Mayor for Housing and Economic Development Alicia Glen.
"The start of construction on the Lower East Side and Soundview landings is an exciting step toward expanding an already successful ferry network. NYC Ferry is opening up opportunities and connecting residents to neighborhoods throughout the city," said New York City Economic Development Corporation President James Patchett.
Four docks are being constructed at Corlears Hook, East 90th Street, and Stuyvesant Cove on the East River and at Clason Point Park in the Soundview Section of the Bronx. Construction of the ferry docks requires embedding piles into the East River to secure the ferry landing barge, support the gangway and guide the ferry vessels into the landing, as well as installation of the access gangway onto the barge. Additional shore-side work will also be required, including installing utilities, security gates and signage.
Last year, NYC Ferry's inaugural year, the system launched four routes, the Rockaway, Astoria and South Brooklyn and East River routes, and served nearly three million riders, surpassing initial projections by 34 percent or nearly 800,000 riders. With the Lower East Side and Soundview routes, the system will have a total of six routes.
In response to high demand, NYC Ferry is adding six higher-capacity boats to its fleet. These bigger boats are each outfitted with larger engines and designed to hold up to 349 passengers. The first three of these larger vessels are expected to arrive in the New York Harbor over the summer.
With 20 vessels operating at 21 landings across New York City by the end of summer 2018, the ferry system will provide a new and easily accessible transit option for traditionally underserved communities and where jobs and housing are growing rapidly. A NYC Ferry ride is $2.75, the same as a subway ride, and includes free transfers to other ferry routes.
"I am looking forward to the opening of the Lower East Side ferry routes this summer. New Yorkers need to be connected to other parts of our City, and the addition of the ferry as an option is a huge positive. The dock at Corlears Hook has the potential to serve many Lower East Siders, who, as of right now, struggle with a very limited public transportation infrastructure. It is absolutely essential for the City to keep our public housing residents and seniors, many of whom live near Corlears Hook, in mind as we move forward," Assembly Member Yuh-Line Niou said.
"The success of the NYC Ferry is proof that access to fast and affordable public transportation options doesn't just shorten commutes for busy New Yorkers – in transit-strapped communities like the Lower Manhattan waterfront, it changes lives. With the NYC Ferry expanding to the Lower East Side, more residents, including the thousands of families living in NYCHA developments in my district, will have access to a reliable and direct link to the rest of the city for the price of a subway or bus ride. Thank you to Mayor de Blasio and all those behind the NYC Ferry for their efforts to bring this service to Grand Street and improve transportation access and connectivity for all," said Council Member Margaret Chin.
"The waterfront communities of the Lower East Side continue to live with limited rapid transit options, and this additional service will bring residents into other bustling areas of the city quickly and affordably," said Councilwoman Carlina Rivera. "For the price of a subway ride, families from my district can now look to NYC Ferry for efficient access to other boroughs and destinations that are currently harder to reach. With demand on existing routes far exceeding projections, it's evident that commuters are eager to embrace expanded travel on our waterways."
"Our city's waterways are a unique resource that provide opportunities to expand the transportation options available to New Yorkers," said Council Member Paul Vallone, Chair of the Committee on Economic Development. "I applaud this expansion of ferry service for the Lower East Side and will continue to advocate for further expansions to support transportation deserts."
"We must continue to expand services to connect New Yorkers in different parts of the city to all modes of transportation, including the train, buses, bikes and, of course, ferries," said Council Member Ydanis Rodriguez, Chair of the Committee on Transportation. "The ferry has increasingly become an essential part of our transportation system. As more riders use ferries, implementing free and seamless transfers from ferries to all other transportation options with one payment system is integral to bringing public transit to the 21st century."
"Since its launch, NYC ferry has proved to be a game changer for a vast array of New York's commuters, workers and tourists. Today, I am glad to see this popular service expanding to new locations-including the Lower East Side. For many LES residents, this upcoming ferry route will be the start of a faster and easier commute. For others, it offers new job prospects. For those who come to visit, expanded ferry routes will provide ample opportunity to explore diverse corners of the City. I applaud the Mayor and everyone involved in this highly anticipated endeavor," said Rep. Nydia M. Velázquez.
"New Yorkers are 'hooked' on the Harbor and all the new community connections NYC Ferry has provided to millions of riders since launch. We're one step closer to expanding the system later this year with the creation of new links and opportunities for our growing waterfront neighborhoods," said Cameron Clark, Senior VP for NYC Ferry operated by Hornblower.
NYC Ferry is hiring captains and deckhands for the summer 2018 season. Jobseekers can apply directly through Hornblower's website, www.ferry.nyc.
For more information on NYC Ferry and to stay up-to-date on the latest information visit www.ferry.nyc.