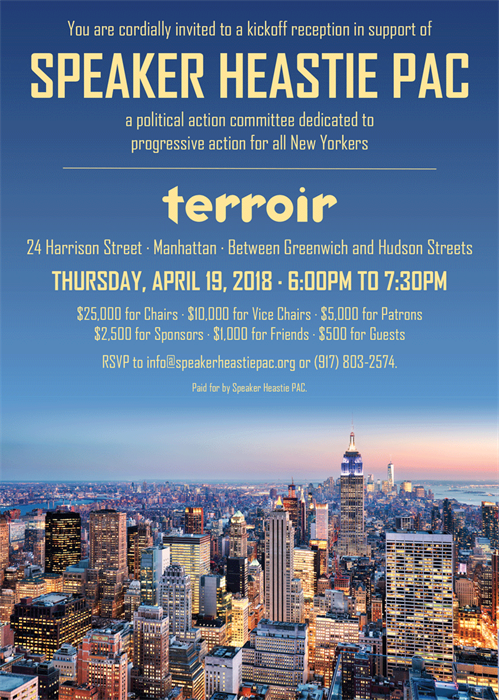 This is a quick reminder that the first event in support of Speaker Heastie PAC, Carl's newly formed leadership PAC, will be on Thursday, April 19, from 6:00pm to 7:30pm at Terroir Tribeca in Manhattan. The details follow below. If you have not yet responded, please do so at your earliest convenience by replying to this email or by calling (917) 803-2574. You may also register through our online contribution page here.
Speaker Heastie PAC was founded by the speaker to facilitate progressive action on behalf of all New Yorkers. Funds raised by the PAC will be distributed to candidates and causes to further the speaker's vision for a more prosperous and equitable New York State—for everyone.
We would greatly appreciate your support of this important project, and we hope you will be able to join us on April 19! Please let us know whether you can make it.
Thank you,
Speaker Heastie PAC
Please make checks payable to:
Speaker Heastie PAC
c/o Bedford Grove LLC
214 Duffield St Ste 57H
Brooklyn NY 11201-7055 United States