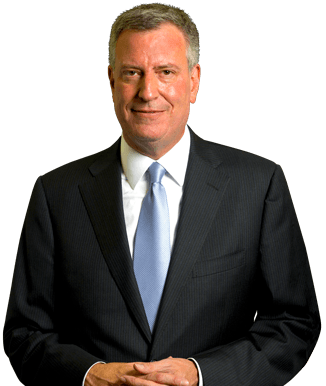 Mayor de Blasio Announces Implementation Of New Law To Combat Speculators And Tenant Displacement
Predatory Equity Bill creates "Speculation Watch List" to track rent-regulated properties bought by potentially predatory investors and target those properties for increased tenant support and monitoring to prevent displacement
Mayor Bill de Blasio recently announced that the Predatory Equity bill, which will help curb speculation and displacement in fast-changing neighborhoods, has become law. Under Intro 1210-A, sponsored by Council Member Ritchie Torres and former Council Member Dan Garodnick, the City's Department of Housing Preservation and Development will publish a "Speculation Watch List" that identifies recently sold, rent-regulated buildings where tenants are at risk of displacement due to potentially predatory investors. The City can then target those buildings with tenant legal support and closer monitoring to protect tenants.
"Protecting New York tenants and affordable housing is a top priority. This legislation means we will, for the first time, shine a bright light on rampant speculation and greedy landlords who buy residential buildings with the goal of pushing New Yorkers out of their homes. This bill can stop tenant harassment in its tracks," Mayor Bill de Blasio said.
The legislation requires that HPD publish the first list within 10 months. It will serve as a resource for tenants and tenant organizations, as well as an indicator for City and State agencies of possible tenant harassment patterns.
The listings, which will be updated quarterly on the City's OpenData portal, will be triggered when buildings sell at much higher than expected prices, an indicator that new landlords expect to drastically raise rents and potentially harass tenants. This new measure is the latest in a series of efforts to protect tenants from harassment and displacement and comes on the heels of Mayor de Blasio releasing Housing New York 2.0, an accelerated and expanded plan to build or preserve 300,000 affordable homes by 2026.
"We need every tool in our arsenal to keep New Yorkers in their homes and safeguard the affordability of our neighborhoods. This new Speculation Watch List uses data to capture the signs of potential harassment and distress, and help protect residents from the threat of predatory investment," said Housing Preservation and Development Commissioner Maria Torres-Springer. "We thank Mayor de Blasio, City Council Member Ritchie Torres and former Council Member Dan Garodnick, and the many housing advocates who partnered with us to develop this innovative new tool to root out harassment before it starts."
"This Watch List adds an important new tool to help us keep New Yorkers stably housed," said Regina Schwartz Director of the Mayor's Public Engagement Unit. "Increasing our knowledge of where tenants may be harassed or unlawfully evicted will help the City ensure that resources and protections for tenants are accessible to those who need them most."
"This new, innovative legislation will ensure that the City and HPD will have the tools necessary to monitor buildings where potential displacement of residents may occur. It will help us better understand how predatory equity is impacting our City and how to better protect tenants. I look forward to a continued partnership with Mayor de Blasio, HPD, and advocates to further expand the tools we have available to prevent financial speculation of buildings that can lead to tenant displacement," Council Member Ritchie Torres said.
"If landlords have a business plan that virtually guarantees harassment of tenants, we will make sure every New Yorker is prepared," said former Council Member Dan Garodnick. "With our Speculation Watch List, we are putting bad actors on notice, empowering tenants, and helping to keep families in their homes."
As part of the Mayor's Housing New York 2.0 plan, the City is aggressively fighting speculation and displacement through tools like the new Neighborhood Pillars, Mitchell Lama Reinvestment and Seniors First initiatives.
Alongside HPD's work, the administration has significantly increased tenant protection services, including establishing the Mayor's Tenant Support Unit. The unit goes door-to-door in neighborhoods across the city informing tenants of their rights, documenting building conditions and violations, soliciting complaints related to harassment and eviction, and making referrals to free legal support and aggressive case management whenever necessary.
"The Speculation Watch List will enable the City and legal services providers to focus resources on stopping displacement before it starts," said Ed Josephson, Director of Litigation at Legal Services NYC. "We thank Councilman Torres, Mayor de Blasio and HPD for their leadership on this important issue."
"Stabilizing NYC is a Coalition that combines legal, advocacy and organizing resources into a citywide network to help tenants take their predatory equity landlords to task for patchwork repairs, bogus eviction cases, and affirmative harassment," said Stabilizing NYC Coordinator of Community Development Project of the Urban Justice Center Jackie Del Valle. "We commend Council Member Torres, Mayor de Blasio and HPD for their commitment to this legislation. We look forward to continued work with the Council and HPD on its implementation. This is a critical step in addressing the predatory equity driven speculation that causes tenant harassment and displacement, which our Coalition witnesses in neighborhood after neighborhood, building by building."
"When buildings with rent-regulated units are bought and sold at ever-increasing prices, the result too often is that long-term tenants face harassment and pressure to move out so that rents can increase. The creation of a "Speculation Watch List" is an important step towards protecting tenants from this cycle of real estate speculation in New York City," said UHAB Assistant Director of Organizing and Policy Samantha Kattan. "We applaud the leadership of Councilman Ritchie Torres and Mayor de Blasio in moving this legislation forward so that the City can begin tracking and addressing the displacement pressure that tenants face when their buildings have been purchased at speculative prices."
"We know that for us, predatory equity means that landlords take loans from banks to buy buildings but then fail to maintain them. We hope that with this bill, these predatory equity practices are curbed and New York City landlords invest in their buildings in a way to improve the quality of life for their tenants," said Yoselyn Gomez, a Ved Parkash tenant and CASA leader.