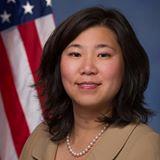 Meng Hails FEMA Policy Change that Will Allow Houses of Worship to Receive Federal Disaster Funds
Congresswoman long championed the issue; pushed for policy change for years
U.S. Rep. Grace Meng (D-NY) recently hailed the policy change by the Federal Emergency Management Agency (FEMA) that will allow houses of worship to receive federal disaster funds, an issue long championed by the Congresswoman who pushed for the policy change for years.
The new policy, recetnly published in the Federal Register, will make churches, synagogues, mosques and temples eligible for disaster aid from FEMA so that they can repair and rebuild from damage caused by natural disasters. Until now, houses of worship have not been allowed to receive such funds even though other private nonprofit organizations – such as schools, zoos, museums, libraries and performing arts centers – have qualified for the assistance.
"This moment has been a long time coming," said Meng. "Allowing houses of worship to receive FEMA disaster aid was the first major issue I tackled as a new member of Congress in 2013. It was just after Hurricane Sandy wreaked havoc on the New York Metropolitan area and many houses of worship were barred from receiving the federal aid they needed in order to get back on their feet. I joined forces with Reps. Chris Smith (R-NJ) and Peter King (R-NY) and we introduced our legislation, The Federal Disaster Assistance Nonprofit Fairness Act of 2013, to change this misguided and discriminatory policy. Our bill quickly passed the House by an overwhelming vote of 354-72 but it unfortunately got tied up in the Senate. But despite that setback, we kept up the fight, and constantly reintroduced the bill. Now, five years later, churches, synagogues, mosques and temples will finally have equal access to the critical aid that other private-non-profits have been permitted to receive. I thank all of my colleagues who have been supportive over the last five years and I thank the many entities and faith-based organizations that backed our effort. As we celebrate this victory, I will continue the fight to pass our legislation into law so that FEMA's new policy will be permanent."
The latest version of the legislation, The Federal Disaster Assistance Nonprofit Fairness Act of 2017 (H.R. 2405), passed the House last month as part of the supplemental appropriations bill, the measure that provides recovery funds to areas recently impacted by hurricanes and wildfires including Texas, Florida, Puerto Rico, the U.S. Virgin Islands and California. The measure is pending in the Senate.