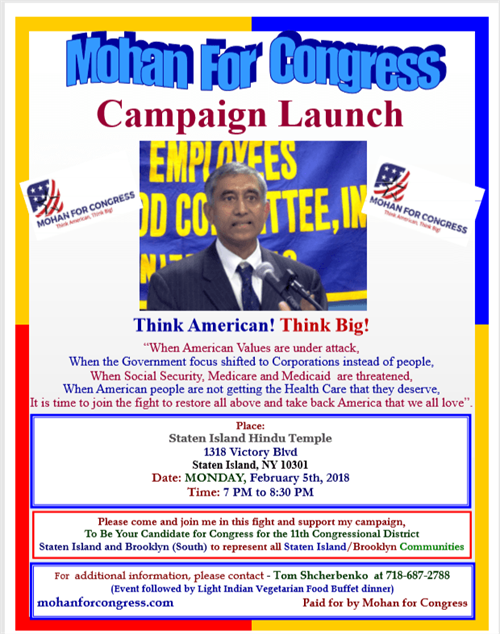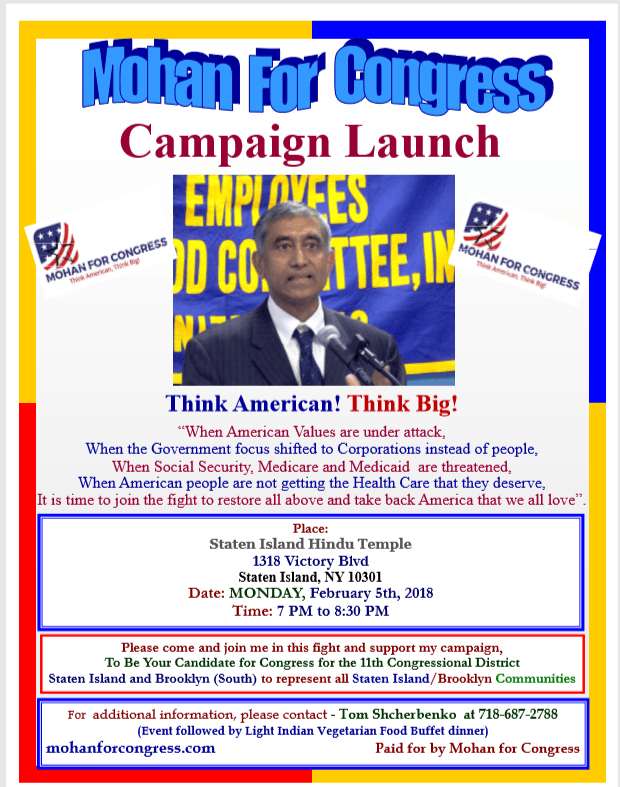 Labor Union Activist Announces Candidacy for Congress
Radhakrishna Mohan, who emigrated from India almost thirty years ago and rose to become an award-winning labor union activist and Staten Island Democratic Party leader, will launch his campaign for Congress on Monday evening at the Staten Island Hindu Temple, 1318 Victory Boulevard, at 7 pm.
Labor union activity was always a passion for Mohan. As a young man in India, a bad contract led him to take over the failed leadership of his union. After immigrating here and getting a job with the New York State Insurance Fund (NYSIF), he became a Shop Steward and subsequently Council President of Public Employees Federation (PEF) Division 240, and after eight years he became an Executive Board Member of PEF. Last year he was awarded the John W. Lavelle Labor Award by the Staten Island Democratic Association.
For the past twenty years Mohan has been very active in the Staten Island local community as Treasurer at the 121st Police Precinct Community Council, Corresponding Secretary at the 122nd Precinct, member of the Port Richmond CERT (Community Emergency Response Team), the Staten Island Building Bridges Interfaith Community (recognized in 2015 for contributions to the Interfaith Community), Executive Board Member of the Lathrope Voorspuy Memorial Scholarship Fund, and the Director of Sports at the Staten Island Cricket Club. He is also a First Responder at the NYSIF with AED training, and the State Employees Federated Appeal (SEFA) Coordinator raising funds for charities.
For the past ten years, Mohan has been heavily involved in local politics, campaigning for and contributing to the campaigns of Michael McMahon, Diane Savino, and Michael Cusick, among others. His political activity led him to be elected as the Vice-President of the South Shore Democratic Club and more recently the Staten Island Democratic Association.
Mohan lives in Manor Heights with his wife of 30 years, Kusuma, where they raised their two sons, Mahesh and Harish.
Who: Radhakrishna Mohan, Candidate for Congress
Where: Staten Island Hindu Temple, 1318 Victory Boulevard
When: Monday, February 5, 2018
Time: 7 pm – 8:30 pm