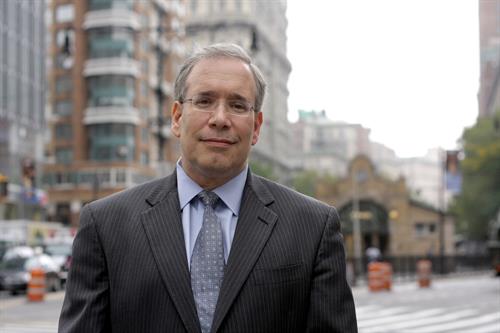 Comptroller Stringer and Advocates Condemn Bank of America's Outrageous Attempt to Jack Up Fees on Low-Income Customers
Set to reap billions from the GOP tax plan, Bank of America to charge exorbitant fees that target everyday New Yorkers
Bank of America to eliminate e-checking accounts popular with low-income customers and profit off of working people despite earning $21 billion in profit last year
New step could be out of compliance with state banking laws, which require low-fee basic banking accounts for New Yorkers.
New York City Comptroller Scott M. Stringer and a coalition of advocates recently condemned Bank of America's move to target its low-income customers with new, high fees just as the bank is set to reap massive profits from the recently-passed GOP tax plan.
Bank of America announced yesterday it would eliminate a free checking account program – popular among low-income individuals – and force its customers into new accounts that charge a $12 monthly fee unless they maintain $1,500 at a given time, or have $250 in direct deposit. These new fees are especially onerous for New Yorkers with limited means, and come at a time when New York faces an extraordinary affordability crisis.
The announcement comes when, according to reports, Bank of America is estimated to reap $3.5 billion in tax breaks from the Trump administration. The bank has roughly $93 billion in revenue annually, with $21 billion in profits last year alone. Its CEO earned $20 million in compensation in 2017.
"This is outrageous. Just when we face an affordability crisis like never before, Bank of America is wittingly making it that much harder for everyday people to get by. A shocking number of New Yorkers don't even have access to a checking account – and Bank of America just openly chose to exacerbate that crisis. It's as heartbreaking as it is unconscionable," Comptroller Stringer said. "We have a moral and a financial obligation to stand up and speak out on behalf of working families. Billions in tax breaks, tens of millions in CEO pay, and higher fees for low-income people – that's what this is about. No wonder so many New Yorkers feel like the deck is stacked. This move is wrong – and Bank of America knows it."
According to a 2015 study by the New York City Department of Consumer Affairs:
While New York City is the financial capital of the world, an estimated 1.14 million households are unbanked or underbanked.
360,000 households in New York City, or 11.7 percent, do not have a bank account, compared to 7.7 percent of households nationally.
An additional 780,000 households in New York City, or 25.1 percent, are underbanked compared to 20 percent of households nationally.
In some neighborhoods like Mott Haven and Hunts Point in the Bronx, over 30 percent of residents are classified as "unbanked."
Comptroller Stringer's previously released "Take it to the Bank" report showed:
For a low balance customer, the average cumulative cost of maintenance and transaction fees for a basic checking account amounted to $73 per year. Bank of America's new announcement targeting low-income New Yorkers means they could be paying double – up to $144 per year.
Further, Bank of America may now be out of compliance with state law, which requires banks to offer and promote low-fee basic banking accounts for New Yorkers.
Comptroller Stringer and advocates decried the decision.
"Big banks on Wall Street just don't get it. Americans are angry at their predatory excesses, system-rigging and ripoff fees — and now Bank of America does this? Comptroller Stringer is fighting back on behalf of regular New Yorkers, fighting for fairness and affordability. We are with him 100%," said Michael Kink, Executive Director of Strong Economy For All Coalition.
"Banks received a massive windfall from Trump's tax scam, and now they are trickling down increased fees to consumers and the poor. We join Comptroller Scott Stringer in calling on Bank of America to halt their plans to charge low-income families for having a checking account," saidJonathan Westin, Executive Director of New York Communities for Change.
"Just weeks after getting a windfall from Trump's tax bill, Bank of America is insisting that it needs to hike fees on checking accounts, a move that will hurt its most vulnerable customers and exacerbate inequality," said Jennifer Epps-Addison, Co-Executive Director and Network President of the Center for Popular Democracy. "This is an outrageous move that we will resist at all costs, and just one more example of why we need to insist on more accountability and oversight for banks and other financial institutions."
"I'm proud to stand with Comptroller Scott Stringer, who valiantly fights for New York City's working poor every day. It is unfortunate that Bank of America is removing the free account option for low-income families. The banking industry as a whole should have more consideration for the poor and working class people of America, especially as we continue to see the fiscal divide continue is this country at epic rates. At the Urban Upbound Federal Credit Union, a certified Community Development Financial Institution, we will continue to offer free accounts for low-income individuals and families: we don't charge monthly or low balance fees, even for an account with as little as $10," said Bishop Mitchell Taylor, Co-Founder and CEO of Urban Upbound.
"In eliminating free checking accounts for low-income people, the highly profitable Bank America is increasing the financial burdens on those who can least afford it. Clearly they are trying to drive these customers away. New York State already has the greatest income inequality in the country, Citizen Action condemns Bank of America, which stands to reap billions from the Republican tax giveaways, for taking yet another step to increase that that deplorable disparity," said Té Revesz, Board Member of Citizen Action of New York City.
"As we have seen through New Economy Project's financial justice hotline, Bank of America has a long history of driving poor New Yorkers toward inferior products and services, and ultimately out of the bank. This latest action is only the most blatant demonstration that Bank of America has no interest in serving low-income New Yorkers — despite benefiting from our public money. All of this leads New Economy Project to ask: If Bank of America doesn't want to do business with New York, why should New York do business with Bank of America?" said Raúl Carrillo, Staff Attorney, New Economy Project.
"We are disappointed that Bank of America is eliminating a program that has benefited the low to moderate income clients NYLAG serves. If you live paycheck to paycheck, are paid in cash or have cyclical income you will not be able to meet the balance or direct-deposit minimums required to avoid a fee," said Doug Ostrov, Director of the Financial Counseling Unit at the New York Legal Assistance Group. "At a minimum we would expect that low-income consumers would be given some options or flexibility in meeting these challenging requirements, which will likely result in vulnerable New Yorkers being forced to pay overdraft fees or to rely on informal and onerous options like high-fee pay day lending and check cashing services."
"This is an attack on our hard working immigrant families of faith who live paycheck to paycheck and need the flexibility to provide for their families. We stand here today to call on Bank of America to stop profiting off the backs of hard working individuals and families," said Rob Solano, Executive Director & Co-Founder of Churches United For Fair Housing ( CUFFH ).
To view Comptroller Stringer's "Take It To the Bank Report", please click here.