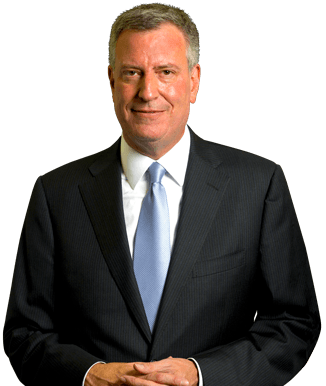 Mayor de Blasio Dedicates $13 Million to Speed NYCHA Response to Heat Outages and Replace Equipment at Hardest-Hit Buildings
Mayor Bill de Blasio recently announced a $13 million investment to help NYCHA rapidly respond to heating emergencies and replace failing equipment. This funding will replace several boiler systems experiencing chronic outages, secure mobile boilers for emergencies, hire temporary repair staff and seal windows to reduce heat loss. This winter brought the longest stretch of below-freezing days since 1961, straining many NYCHA buildings' aging heating systems to the breaking point. The new funding will immediately enable the agency to repair equipment faster, and maintain heat under emergency conditions.
"All New Yorkers deserve heat and hot water. While NYCHA has been working around the clock to keep our boilers working, these record cold temperatures are hard on our aging heating systems," said Mayor Bill de Blasio. "This new investment will help us continue to respond to outages immediately, replace boilers in hardest hit buildings and keep tenants warm."
"This investment will address some of our most problematic infrastructure through this recent cold spell and also increase staffing so we can respond to outages faster," said NYCHA Chair and CEO Shola Olatoye."This support from Mayor de Blasio will literally keep the heat on in thousands of NYCHA homes and is critical in our efforts to improve service for residents."
This winter, NYCHA will:
Hire 57 Repair Staff to help respond to boiler outages. This will boost total staff and contracted personnel maintaining boilers from 389 to 446.
Rent 3 Mobile Boilers to have on-hand for heating emergencies. Having this equipment stored on site and ready for immediate deployment will reduce the time needed to restore emergency heat resulting from catastrophic outages from weeks to approximately 24-48 hours.
Seal and Repair 9,600 Windows at NYCHA senior apartments to ensure these windows are properly sealed, keeping heat inside the unit.
To prepare for next winter, NYCHA will:
Replace 8 boiler plants at Union Avenue and Claremont Houses, two developments with chronic outages.
Install 7 gas-fired, winterized boilers at Patterson, Independence and Pelham Parkway Houses, three developments with recent heating problems. These cleaner, more efficient and more reliable boilers will replace the oil-fired boilers that are experiencing outages.
Buy 5 New Mobile Boilers to have on-hand to provide emergency heat rapidly following major outages.
Since 2014, NYCHA has invested nearly $300 million in heating and plumbing, and has received a $109 million grant from FEMA to replace or repair 67 boilers at 17 developments.
The de Blasio Administration has made an unprecedented commitment to preserve and strengthen public housing. Since 2014, the City has invested $1.3 billion to fix nearly 1,000 roofs and $555 million to repair deteriorating exterior brickwork at more 400 buildings. The Mayor also waived both NYCHA's annual PILOT payment and NYPD payment, relieving NYCHA of nearly $300 million in operating expenses since 2014.