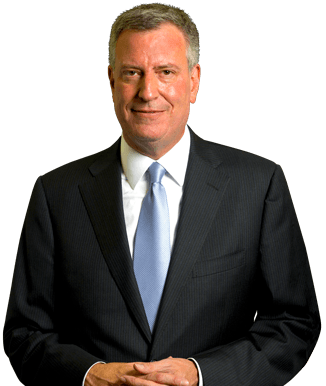 De Blasio Administration Announces Location of Bronx Animal Shelter and Upgrades to Brooklyn Shelter
Record high placement rates for animals at City shelters in 2017
The de Blasio administration recently announced the location of the City's new Bronx Animal Shelter. Projected to open in 2024, the 47,000-square-foot Bronx shelter will be located in the East Bronx, and have space for 70 dogs, 140 cats, 30 rabbits and 20 animals from other species. The City will also renovate its existing Brooklyn shelter to expand its current facilities, renovation will be complete by 2022. These investments build upon the Mayor's commitment to have a fully operational animal shelter in each borough.
In 2017, more than 93% of all dogs and cats at City-operated shelters were placed either through adoptions to the public or through the adoption partner program. This historic placement rate puts New York City as a national leader in the placement of dogs and cats among shelters that publicly report data and have average annual intakes exceeding 30,000 animals.
"Our animal shelters deliver services to upwards of 30,000 animals. These two new facilities in the Bronx and Brooklyn will build upon the City's record 93% placement rate to ensure that all missing, homeless and abandoned animals within the city receive the care they need. These shelters also will offer direct adoption because we know how much New Yorkers love their pets, especially those in need of a home," said Mayor de Blasio.
"Our continued investments in Animal Care Centers of NYC will create valuable services for pet owners and pets alike," said Deputy Mayor for Health and Human Services Dr. Herminia Palacio. "These exciting new investments in the Bronx and Brooklyn build on the Mayor's commitment to have a fully operational animal shelter in each borough, and I thank the Health Department and ACC on their collaboration towards this important step."
"Creating full service shelters in every borough has been a priority for the Council for almost two decades and I am glad to take part in the first major step toward that goal," said Speaker Corey Johnson. "New York City deserves state-of-the-art animal shelters designed by experts in animal welfare and I look forward to the public processes as the plans for these shelter projects progress."
"The planned improvements at Animal Care Centers of NYC build on our commitment to New Yorkers and their animals," said Health Commissioner Dr. Mary T. Bassett. "I thank ACC for its partnership and excellent work in providing the best services available to New Yorkers looking for new companions, and I thank Mayor de Blasio for his efforts to expand the animal adoption system throughout the five boroughs."

"We are a completely different organization than we were even five years ago. We have become the go-to resource for NYC animal related issues – from pet adoption to rescue to help with keeping pets and families together," said ACC President and CEO, Risa Weinstock. "We are excited to bring that level of service to the Bronx, with the addition of a new facility."
The de Blasio administration has investment $98 million in the development and renovation of full-service animal shelters in all five boroughs. Animal Care Center currently runs full-service shelters in Manhattan, Brooklyn and Staten Island and admissions centers in the Bronx and Queens. New York City operates one of the largest animal shelter in the country, taking in more than 30,000 animals every year. The new Bronx shelter will undergo a thorough community engagement process throughout the Uniform Land Use Review Procedure (ULURP) before construction begins.
"Providing humane treatment to stray animals in New York City requires having the most modern facilities. Until now we as a City have failed to meet that standard in the Bronx, and I am thrilled we are finally moving in to a new era of humane, more equitable animal care in the Bronx," said Council Member Mark Levine, Chair of the City Council Committee on Health.
"As a proud champion of animal welfare, I am truly pleased to see the City's expanded investment in shelter facilities that will improve our care of our four-legged friends," said Brooklyn Borough President Eric Adams. "The center in East New York, which has been in long need of upgrades, will benefit from an estimated $27.3 million in renovation funds that will expand our adoption capacity and allow us to care for more animals. My administration has helped families across Brooklyn find pets through our shelter system, and the investments by DOHMH and ACC will extend our shared capacity to find countless more 'forever homes' across our borough."
"I commend the Health Department, the Animal Care Centers of NYC and the Administration in general, for their commitment to the optimum welfare of animals. This efficient system will be beneficial for the animals, as well as prospective families in every borough," said Senator Roxanne J. Persaud.
"Throughout the last four years, Speaker Johnson and I have fought to make full service animal shelters a reality for Queens and the Bronx. I applaud the Administration for moving forward with the new Bronx shelter as it reflects their commitment to this important issue," said Council Member Paul Vallone, Chair of the Committee on Economic Development. "I look forward to continuing to work with the Speaker and Animal Care and Control to bring a full service animal shelter to Queens."
"ACC is doing impeccable rescue work, more resources that the City dedicates will only further this good work for New York City's homeless animals," said Patrick Nolan, Chair of the Board of Animal Care Centers of NYC.
"This new shelter will be a critical life-saving resource for pets and their owners in the Bronx," said Matt Bershadker, President and CEO of the ASPCA. "For too long, vulnerable Bronx animals have been transported to shelters in neighboring boroughs, which adds to the challenges at those facilities and hinders reunions between lost pets and their owners. We thank Mayor de Blasio for pledging to protect at-risk animals in every community in this city, and we look forward to supporting Animal Care Centers of NYC as it provides homeless animals with the care they need and deserve."
"We are so proud to partner with ACC to support their work and the achievement of the 93% save rate in New York City," said Susanne Kogut, Executive Director of the Petco Foundation. "Lifesaving communities are possible when everyone in the community comes together for the animals. Clearly, the Mayor, ACC, the ASPCA, the Mayor's Alliance and so many others are doing just that for NYC's animals in need."
"We are very grateful to partner with ACC at this historic time when all boroughs will have a full-service Shelter. It's perfect timing to expand ACC awareness in New York City with the Boroughbred campaign, and elevate New York's animals to a new and distinct breed status. Because every one of the ACC boroughbreds deserves placement in a permanent and loving and home of their own," says Colby Webb CMO of Wunderman.
"We love working with ACC because we appreciate and support the work they do on behalf of animals in New York City," said Carrie O'Brion, Communications Manager for BluePearl Veterinary Partners. "We commend them on their record high placement rate and look forward to continuing to collaborate to provide a better life for pets throughout our region."
"We commend Mayor de Blasio for his forward-thinking recognition that New York City's human and non-human citizens deserve the best animal care system possible," said Jane Hoffman, President of the Mayor's Alliance for NYC's Animals. "We are thrilled that, under Mayor de Blasio's leadership, these state-of-the-art improvements— critical to New York City's future success in life-saving—are on the horizon."
"Empire State Humane Voters is thrilled that a site has been chosen for a full service animal shelter in the Bronx. This new expansion to the Bronx will make it much easier for residents to adopt a furry family member. We are grateful to Mayor de Blasio for making NYC a more compassionate place for all residents, two legged and four legged. We also want to congratulate the staff and volunteers of ACC reaching a record 93 percent placement rate," said President of Empire State Humane Voters, Allie Taylor.
"Muddy Paws Rescue is very excited about the planned expansion of the Animal Care Centers of NYC. As a New Hope partner we look forward to the growth of our partnership and the effect the expansion will have on our life saving efforts," said Rachael Ziering, Executive Director of Muddy Paws Rescue.
"For 24 years Shelter Reform Action Committee has advocated for animal shelters in all five boroughs. Thank you, Mayor de Blasio, for bringing Bronx residents dramatically closer to that goal. And congratulations to ACC for its dramatic progress and commitment to our City's homeless animals," said Esther Koslow, President of Shelter Reform Action Committee.
"We have long believed that each borough needs its own full service animal shelter, and are so encouraged to learn that a site has been selected for a state-of-the-art shelter in the Bronx, where the need is so great, and that major renovations are planned for the shelter in Brooklyn. Thanks to Mayor de Blasio and to all who are helping to move these vital improvements forward," said Holly Staver, President, City Critters.
ACC rabbits, cats and dogs available for adoption can be viewed online at http://nycacc.org/AdoptionSearch.htm, or on ACC's free mobile app (available on Google Play and iTunes).