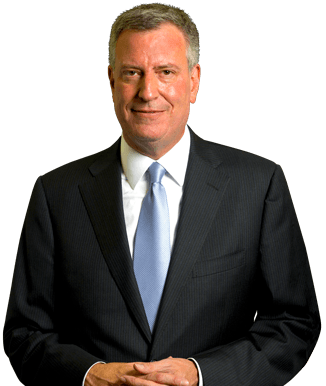 De Blasio Administration Releases Annual Vision Zero Report
Year Four Report details comprehensive citywide efforts made around engineering, enforcement and education; in 2017, New York City had its fourth consecutive year of declining traffic fatalities, strongly countering national trends
NEW YORK—Mayor Bill de Blasio today announced the release of the City's Vision Zero Year Four Report, a comprehensive review of the first four years of the groundbreaking safety initiative. In 2017, New York City experienced its safest year on record with the fourth straight year of fatality declines. Since the program's inaugural year in 2014, when New York City became the first American city to adopt Vision Zero, the city's traffic fatalities have declined 28 percent with a 45 percent decline in pedestrian fatalities — bucking national fatality trends, which have increased 15 percent over the same period.
"Vision Zero is working. We have lowered the speed limit, increased enforcement and created safer street designs, efforts that build on each other to help keep New Yorkers safe," said Mayor de Blasio. "The report we are releasing today shows the promising results so far, but also illustrates how far we must go to deepen this work. Not even a single tragedy on our streets is acceptable, and we'll keep fighting every day to protect New Yorkers."
The report illustrates several of the elements of the data-driven Vision Zero initiative that have delivered results:
Using detailed crash and injury data, New York City created Borough Pedestrians Safety Action Plans, directing its investments at high priority locations across the five boroughs. The original priority locations introduced in 2015, based on 2009-2013 data, averaged 142 traffic deaths per year in that period. In 2017 that number was 100 deaths, a 30 percent decline.
Pedestrian fatalities have seen the greatest fatality decline among all modes of travel, dropping by 45 percent, from 184 in 2013 to 101 in 2017.
The Year Four report takes a closer look at demographic groups, types of locations or periods in the day which carry a disproportionate concentration of severe and fatal crashes.
The report look at the myriad ways agencies implement the initiative and a look ahead to new initiatives launching in 2018.
"Thanks to the incredible work of everyone at DOT, the NYPD, and our agency partners, the first four years of Vision Zero have been the safest ever on our city streets. Vision Zero has truly saved lives — of family members, friends, neighbors and fellow New Yorkers," said DOT Commissioner Polly Trottenberg. "In 2017, under the Mayor's leadership, DOT's work helped fuel a historic drop in pedestrian fatalities, including through a record number of safety redesigns and by reprogramming a record number of traffic signals that give pedestrians a head start in crosswalks. However, the number of lives lost on our streets is still too high, including the increases in fatalities we saw last year among cyclists, drivers and motorcyclists. We know we have much more work to do to fully achieve Vision Zero."
"Four consecutive years of decreasing traffic fatalities in the City is a good indication that the Vision Zero Initiative is working," said Chief Thomas Chan, the NYPD's Chief of Transportation. "This Mayoral initiative owes its life saving successes to the collaborative effort of its Vision Zero inter-agency oversight. The "Vision Zero Year Four Report" highlights some of the great work that laid the groundwork for these successful results. In 2017, the NYPD again increased its enforcement against dangerous driving violations identified as the leading causes of traffic fatalities; speed enforcement increased 9.2%, texting while driving increased 36.3%, and failure to yield to pedestrians increased 22%. In 2018, the NYPD looks forward to working with the Vision Zero team to reach yet another traffic safety landmark."
"Professional drivers are pivotal to the Vision Zero work ahead of us, and the TLC has continued its extensive, multilingual outreach to drivers and bases on important safety issues like fatigue," said TLC Commissioner Meera Joshi. "More than 35,000 drivers completed the TLC Driver Education course last year. Since taxi and for-hire vehicle drivers use our streets significantly more than other drivers, we hold them to a high standard and TLC enforcement continues to focus on traffic safety. Our staff are highly responsive to public complaints and worked hard to hold drivers accountable for safety violations. We also celebrated the accomplishments of more than 400 of our safest drivers, who completed millions of miles of safe trips last year without violation or injury."
"NYC operates the largest fleet in the City and is working to make it the safest," said DCAS Commissioner Lisette Camilo. "In 2017, DCAS completed a first Safe Fleet Transition Plan for our fleet which will ensure we specify and procure the safest possible fleet vehicles possible, including automatic braking, truck side-guards, and backup cameras, and will serve as a model for other public and private fleets. We will continue to work with all our partner agencies to achieve Vision Zero."
"The Vision Zero Year Four report highlights the extraordinary work accomplished by the City and our partners," said Emily W. Newman, Acting Director of the Mayor's Office of Operations. "But as we enter year five we know there is much more work to be done to make our streets safer and protect the lives of New Yorkers. As the Chair of the Vision Zero Task Force, we remain focused on one vision: vision zero."
"Since joining the City's Vision Zero Task Force two years ago, BIC has undertaken many initiatives to improve safety in the commercial garbage hauling industry. We look forward to working with the industry, unions, advocates and our city agency partners to achieve the City's goal of eliminating traffic-related deaths," said BIC Commissioner Daniel D. Brownell.
"Vision Zero has made a real difference in driving down the number of traffic deaths in New York City," saidHealth Commissioner Dr. Mary T. Bassett. "However, traffic deaths and injuries remain a serious public health concern, particularly among cyclists, drivers and motorcyclists. I commend Mayor de Blasio and Commissioner Trottenberg for their work to protect New Yorkers through Vision Zero."
Street Design
DOT continues to focus on proven methods of reducing fatalities and serious injuries through the implementation Street Improvement Projects (SIPs), installation of Leading Pedestrian Intervals (LPIs), addressing left turns at intersections and building out the on-street bike network, particularly Protected Bike Lanes. In the fourth year of Vision Zero (2017) DOT made major advances on these fronts:
Completed 114 SIPs, 76 of them in Vision Zero Priority Locations, a 138 percent increase over the five year average leading up to Vision Zero.
Added 832 LPIs, giving pedestrian a head start where drivers are turning and preserving their right of way. With over 2,000 of these installed under Vision Zero, pedestrian and cyclist KSI numbers have declined 37 percent at these locations.
Continued to implement Left Turn Traffic Calming interventions. Over 200 intersections have received this treatment, including 110 in 2017.
Continuing to build out the bike network. Last year DOT added over 77 lane miles to the bike network, including a record of 25 Protected Bike Lane miles.
A continued success of the agency camera enforcement program: speed camera, bus lane cameras and red light cameras. The City is currently advocating in Albany for legislation expanding the speed camera program in an effort to increase and broaden the school zones. Speed cams have proven to reduce speeding in school zones by 63%.
Enforcement
In 2017, the NYPD focused its enforcement to affect a change in the behavior of persons who disregard the importance of traffic safety. The NYPD officers issued 684,910 Vision Zero summons which were issued to drivers who violated the traffic laws identified as the primary causes of collisions with the most catastrophic results, these violations included Speeding, Failure to Yield to a Pedestrian, Utilizing a Cell Phone While Driving and Texting while Driving. This is up 7.3% from 2017 and 20.2% from 2014. In addition, the NYPD continued to target drivers who violated the crime AC.19-190 which is violated when drivers fail to exercise due care and cause an injury to a pedestrian or bicyclist who has the right of way. In 2017, the NYPD took 2,255 total enforcement actions against these violators an increase of 12.5% from 2016.
For-Hire Vehicles
In 2017, TLC field enforcement officers issued 59% more traffic safety summonses compared to 2016, with significant emphasis on speeding and distracted driving. The TLC also pursues complaints from the public about safety infractions that include vehicles stopped in bike lanes and blocked crosswalks, a valuable complement to field enforcement and driver education efforts. TLC has held more than 500 Vision Zero driver outreach meetings and honored 420 drivers and 25 businesses last fall for their impeccable safety records, the highest number of honorees in all four years of the event. The TLC also held a Fatigue Prevention Outreach Week last spring to educate driver about the risks of driving while tired and to raise awareness about new rules to keep tired drivers off the roads.
Leading the Way with the City's Fleet
In 2017, DCAS published its Safe Fleet Transition Plan in conjunction with the US DOT Volpe Center in May 2017. This plan stipulates that all vehicles purchased for Fiscal Year 18 and beyond must include the best available safety technology including, where applicable, automatic emergency braking, rear and side truck guards, and back up cameras. In addition, the City has installed over 1,350 truck sideguards on NYC Fleet vehicles, making it the largest program of its kind in the nation. Sideguards have been shown to reduce the deadliness of truck collisions with pedestrians by 20% and with bicyclists by 60%.
Using Data to Guide Efforts and Understand Crashes as a Public Health Imperative
In 2017, DOHMH completed a data matching process to link hospital records with crash reports. Using the linked dataset, staff identified patterns of injuries, injury type, body part injured, and injury severity associated with crash characteristics. These patterns can help describe, among other things, the disproportionate impact of traffic injuries on particular populations, such as children and older adults. Among the matched cases, injury severity is higher among older adults, pedestrians, and motorcyclists.
Select Year 5 New Initiatives
Update Borough Pedestrian Safety Action Plan priority maps based on an analysis of KSI data from 2014-2016, the first three years of Vision Zero
Intensify street safety improvements in areas with high senior citizen concentrations and pedestrian injuries to seniors
Implement Bicycle Priority Districts to increase lane network mileage in areas demonstrating disproportionate KSIs relative to their infrastructure
Convene a working group to develop a Vison Zero-based driver education program for those under age 25
Proactively identify intersections at which new traffic signals would likely be warranted by using data analysis
"We must change the way we look at our streets, re-engineering them to be shared thoroughfares that safely move people and goods by a variety of methods," said Brooklyn Borough President Eric Adams. "Even as New York City is making clear strides in this direction, I see how much further we can and need to go to reach Vision Zero. My administration will continue to put street safety first in our work across Brooklyn."
"All traffic injuries are preventable, and Vision Zero is about planning ahead and using every tool at our disposal to prevent them," said Manhattan Borough President Gale A. Brewer. "I applaud the Dept. of Transportation and its partner agencies for their continued focus on making our streets safer and saving lives."
"Clearly, Vision Zero is working. Although one traffic-related fatality is one too many, the road safety initiative put in place by Mayor Bill de Blasio four years ago is resulting in positive results," said State Senator Jose Peralta. "As we work to push additional safety measures, it is time to pass my bill calling to increase the number of speed cameras in school zones and other safety proposals. Reckless drivers don't belong in our roads."
"The progress we have made in reducing traffic fatalities in New York City is encouraging and tell us we can do more in achieving our Vision Zero goals," said Council Member Ydanis Rodriguez, chair of the Council Committee on Transportation. "We must continue to think of innovative ways to reduce traffic deaths, work with our state colleagues, expand the use of traffic calming devices, increase law enforcement and enhance the NYPD's resources, including the Collision Investigation Squad. I look forward to continue working with the administration, DOT, Speaker Johnson and my colleagues in making lasting change on this issue."
"That pedestrian deaths have fallen for a fourth straight year in New York, especially at a time when they are on the rise nationally, shows that the Department of Transportation's data-driven approach to saving lives on our streets is working," said Paul Steely White, executive director of Transportation Alternatives. "In order to reach Vision Zero by 2024, the City must continue to direct resources toward fixing our most deadly streets, and secure authorization from Albany to expand the use of speed safety cameras in school zones across the five boroughs."