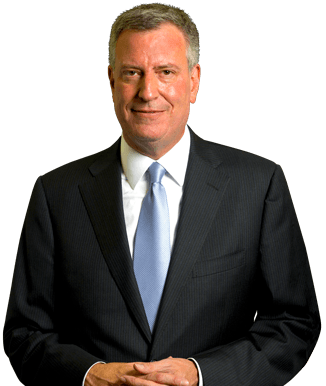 Mayor de Blasio Appoints Marianne Spraggins to the Campaign Finance Board
Mayor de Blasio recently announced the appointment of Marianne Spraggins to the New York City Campaign Finance Board, an independent and non-partisan agency that administers one of the strongest, most effective campaign finance systems in the country.
"The Campaign Finance Board is critical to protecting the City's electoral process," said Mayor de Blasio. "With a proven commitment to public service and experience in the private sector, Marianne Spraggins will help to ensure the integrity and effectiveness of the Board."
Marianne Spraggins is an investment banker, attorney, and marketing executive with extensive experience in municipal and mortgage finance, private equity, and asset management. She is currently an associate broker at Mont Sky Real Estate and a director of GrowNYC, which promotes sustainability in the city. As Board Member, Spraggins will be responsible for overseeing the work of the agency, make public funds and penalty determinations, issue advisory opinions and adopt rules. She was appointed to the board on February 26, 2018 and will serve a five-year term ending on November 30, 2022. Spraggins succeeded Art Chang.
About Marianne Spraggins:
Marianne Spraggins began her Wall Street career at Salomon Brothers where she was part of the team that created residential mortgage securities and marketed this new product to institutional and public pension fund investors. Later, while at Smith Barney, she became the first African American female Managing Director on Wall Street. She also served as Senior Counsel to the Congressional Oversight Panel, a body created by Congress to oversee the U.S. Treasury's implementation of the $700 billion Troubled Asset Relief Program (TARP).
Spraggins is a former director of the Securities Investor Protection Corporation ( S.I.P.C.), where she was appointed by President Bill Clinton and confirmed by the U.S. Senate to the agency that protects investors in the event of broker/dealer failure. She has also served as a member of the board of directors for the New York City Economic Development Corporation, the New York Law School, and the Apollo Theater Foundation.
Spraggins received a B.A. in English literature from Boston University, a J.D. from New York Law School, and a LL.M. in international law from Harvard Law School. Spraggins is a member of the Bar of the State of New York.
About the Campaign Finance Board:
The Campaign Finance Board administers the City's landmark Public Campaign Finance program, which matches small contributions raised by candidates with public funds. The CFB enforces the City's campaign finance law and provides public disclosure of campaign finances from candidates and outside groups. The CFB also publishes a non-partisan Voter Guide for each regularly scheduled City election and administers the debate program for candidates for citywide office.