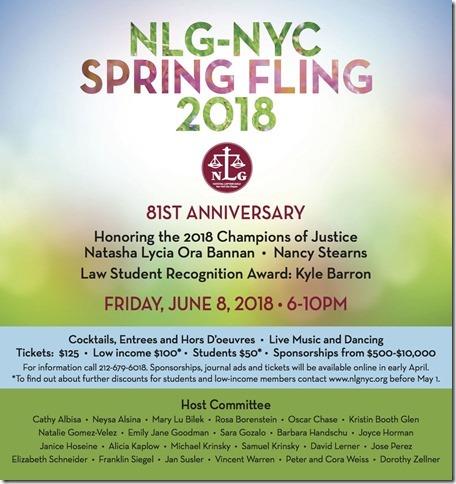 Dear Guild friends,
Please join us Friday, June 8, 2018 for the Chapter's annual fundraiser, Spring Fling, as we celebrate our 81st year of progressive work with great food, a full bar, live music, and good company.
This year, we are thrilled to honor NLG President Natasha Lycia Ora Bannan, long standing member Nancy Stearns and Law Student Kyle Barron! Honoree bios below.
The event will be held at the historic Angel Orensanz Foundation on Manhattan's Lower East Side.
Come enjoy camaraderie and inspiration while supporting the New York City chapter's ongoing commitment to visionary work.
Sponsorships, tickets, and journal ads are now available online at www.nlgnyc.org.
We look forward to seeing you on June 8!
To view the invitation and purchase tickets and ads go to https://nlgnyc.org/Spring Fling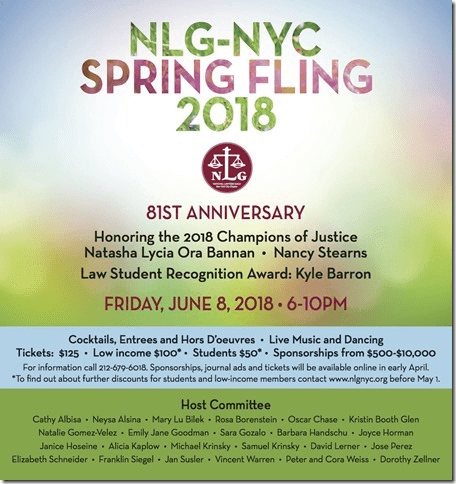 Natasha Lycia Ora Bannan is President of the National Lawyers Guild, the nation's largest and oldest progressive bar association. She Co-Chairs the NLG Subcommittee on Puerto Rico and is actively involved with the Task Force of the Americas, including helping lead delegations throughout Latin America and coordinating solidarity work. Natasha is also Associate Counsel at LatinoJustice PRLDEF where she litigates low-wage Latina/o immigrant workers rights and provides legal support in the face of the economic crisis in Puerto Rico. Prior to joining LatinoJustice PRLDEF, she worked at the Center for Reproductive Rights and also clerked for the Hon. Ronald L. Ellis in the Southern District of New York. Natasha graduated from CUNY School of Law, where she was Editor-in-Chief of the CUNY Law Review and a Fellow at the Center for Latino/a Rights and Equality. Natasha is a Board member of the Center for Constitutional Rights and MADRE.

Kyle Barron is a law student at NYU School of Law and a PhD student at the New School, focusing on immigration law. Before law school she was involved in immigrant rights movements, first with No More Deaths in Arizona and later with the New Sanctuary Coalition in New York City. At New Sanctuary she ran the accompaniment program to ensure that people facing deportation did not have to go to immigration court hearings and check-ins with ICE alone. She also co-founded the New Sanctuary pro se asylum clinic, which continues to serve dozens of people each week, and continues to be active in the organization. Since starting law school, she has joined the NYU and NYC chapters of the National Lawyers Guild. Through NLG, she has organized the Sanctuary Defense Committee, bringing together attorneys to provide consultations to institutions considering offering public, physical sanctuary. While going to school and organizing, she also played bass with punk and garage bands around the U.S. and Europe.

Nancy Stearns attended law school after working with the Student Nonviolent Coordinating Committee (SNCC) in Atlanta. During 12 years at the Center for Constitutional Rights, she filed the first feminist challenge to New York State's restrictive abortion law in 1969 with a group of feminist attorneys. It became the model for successful challenges Nancy brought to abortion laws in New Jersey, Connecticut, Rhode Island and Massachusetts. Those cases were cited in the U.S. Supreme Court's Roe v. Wade decision. Once abortion was legalized in New York, there were reports of poor women being pressured into agreeing to sterilization to obtain an abortion. Nancy joined a community task force to develop the New York City Health and Hospital Corporation's guidelines to prevent sterilization abuse. She successfully defended New York State's rape-shield law, and her challenge to New York City's mandatory pregnancy leave policy in Monell v. Department of Social Services resulted in the Supreme Court ruling that municipalities are liable for damages under 42 U.S.C. 1983. She represented members of Vietnam Veterans Against the War in a federal criminal conspiracy prosecution arising from anti-war protests, and she litigated to reunite families separated by the Babylift, in which Vietnamese infants and young children were brought to the U.S. for adoption at the close of the Vietnam War, despite having living parents. She was part of the defense team in a ground-breaking women's self-defense case in Washington State, State v. Wanrow.

Nancy was part of a CCR team that sued Henry Kissinger and other Nixon Administration officials for the killing of Charles Horman by the Chilean Junta days after the coup-d'etat. For fourteen years Nancy was the head of the Toxics unit of the New York State Attorney General's Environmental Protection Bureau, involved in litigation on cleanup of toxic chemical contamination and enforcement of the newly enacted Worker Right to Know Law.

Nancy taught courses on Women and the Law, and Toxics, at Rutgers Law School for twenty years. She was an inaugural board member of the Women Rights Law Reporter, a publication founded by Rutgers Law professor Ruth Bader Ginsburg. In 2008 Nancy was an honoree in the "Salute to Feminist Lawyers 1963-1975" presented by the Veteran Feminists of America. She dedicated a number of performances in her parallel career as a cabaret singer, to benefit the work of the NYC Guild chapter.

Best regards,

Susan Howard