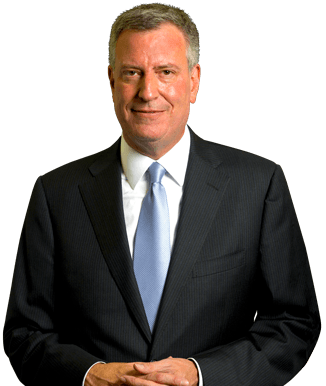 Mayor de Blasio, NYC Business & Labor Leaders Denounce Trump Push to Add Citizenship Question to 2020 Census
Mayor Bill de Blasio and the Association for a Better New York recently warned that the decision by the Trump administration to add a citizenship question, asking every family in America about their immigration status, to the 2020 Census will have a serious, negative impact on New York City. The question is likely to depress response rates among immigrant communities and result in an inaccurate count that will hurt New York State's representation and federal funding, and, fundamentally, our American democracy.
"New York City is joining Attorney General Schneiderman's lawsuit to stop President Trump from this unprecedented move to politicize the census. A fair and accurate 2020 count is constitutionally mandated to ensure political power and resources remain with the people – where they belong. President Trump's decision puts our amazing city of immigrants in jeopardy and threatens federal funding for infrastructure, health care and public safety in New York," saidMayor de Blasio.
"The citizenship question undermines an accurate census for all America. It stokes fear, increases the likelihood of a false count, and unfairly harms cities and states like New York where immigrants are a deep and important part of the fabric," saidSteven Rubenstein, Chairman of the Association for a Better New York. "We urge Secretary Ross to reconsider this damaging decision that will further discourage these already hard to count populations from participating."
With a population of 8.6 million people, New York City is the most populous and ethnically diverse city in the United States. Two hundred languages are spoken in the five boroughs and more than 3 million of the city's residents were born in other countries. New York has the largest Latino, Caribbean, Asian, and African populations of any American City. Our diversity is a hallmark of our strength.
The addition of a citizenship question to the short-form Census for the first time since 1950 could reduce participation in the Census from all immigrants, regardless of their immigration status.
Before the administration decided to add this politically-charged question in to the decennial count, the challenges faced by the 2020 Census were already enormous. That is due to highly charged anti-immigrant rhetoric coming out of Trump administration and internet security breaches which have dominated the headlines.
The decennial census count determines representation in the U.S. House of Representatives, is used to draw political district at federal, state, and local levels, and affects the flow of billions of dollars in federal funds to the State and City. An inaccurate count is also bad for business, as many companies use census data to locate stores and allocate resources.
The flow of dollars to New York State and, by extension New York City, from the federal government is also affected by the census count. An undercount shortchanges the city, hurting its ability to provide affordable housing, maintain infrastructure, and provide for the needs of residents in the areas of education and health, especially related to the well-being of children. These are services that residents of all creeds, nationalities, and economic class use on a daily basis.
The decision to include a question about a family's immigration status is a bipartisan issue. It will hurt all immigrant-heavy states, including Florida, California, Texas and Arizona. Earlier this year, the United States Conference of Mayors, with more than 160 mayors across the political spectrum issued a letter calling on Commerce Secretary Wilbur Ross to reject a push to include a citizenship question in the 2020 Census. Civil rights advocates have also raised alarms over the question.
The Census Bureau is bound by Title 13 of the United States Code, which means personal information provided for the Census cannot be published, shared or even given to any other government agency. Despite that, the City and ABNY remain highly concerned that the citizenship question will depress participation in the 2020 Census and so do immense harm the City, the State and Country.
The removal of this question is necessary to protect an accurate count and a correct reapportionment of federal representation and dollars to New York and other affected states throughout the nation. The City will continue its advocacy against deleterious changes, including a citizenship question, to the 2020 Census.
"The Trump Administration's claim that adding a citizenship question to the census will protect voting rights is preposterous and hardly conceals their true intent. This is plain and simple another attack on immigrant communities," said Bitta Mostofi, Acting Commissioner of the Mayor's Office of Immigrant Affairs. "As federal administrations have acknowledged for the better part of a century, an accurate count of every person ensures an equitable distribution of resources for critical services, like housing and health care. We will continue to fight changes like these that aim to distort our democracy and enflame fears among immigrant New Yorkers."
"Understanding who lives in our city, and where, is essential to maintaining New York's status as the greatest city in the world. Our city, state, and nation needs a robust, accurate census and we are concerned that including questions on citizenship will jeopardize this critically important task," saidJohn H. Banks, President of The Real Estate Board of New York.
Kathryn S. Wylde, President and CEO of the Partnership for New York City said: "The census is important and the business community shares the concern that a citizenship question will jeopardize a complete and accurate count."
"Anything in the census questionnaire that suppresses participation would pose a serious threat to the fiscal health of New York City and State," said Carol Kellermann, President of the Citizens Budget Commission.
"It is essential that everyone residing in New York City be counted in the census of 2020," saidBetsy Gotbaum, Executive Director of the Citizens Union. "Without a complete count, federal funding for many programs will be reduced. Programs like Medicaid, supplemental nutrition programs, Medicare Part B., Children's Health Insurance, special education grants and many more programs that affect everyone's lives. A citizenship question proposed by the federal government will frighten a significant portion of the population, particularly in immigrant communities. We must all work together to encourage a full count of all New Yorkers."
"Planning for the region's future depends on the availability of good data," saidTom Wright, President, Regional Plan Association. "This action by the Federal government undercuts our ability to get the comprehensive, reliable data that we need from the Census. RPA's Fourth Regional Plan calls for increasing civic participation from all parts of our society to shape the kind of cities and regions that work for all of us. This goes in exactly the opposite direction."
"This is a clear attempt to intimidate immigrants and working class people of color while also providing a means to disenfranchise and deprive these communities of the vital services and resources they rely on," saidHector Figueroa, president of 32BJ. "As a union with thousands of members who are immigrants or live in immigrant communities, we are committed to helping all of our members maintain their rights and access to services as Americans."
"It is essential that every New Yorker is accounted for in the census, and we are concerned about anything that would suppress participation. New York depends on its fair share of funding from the federal government for services and infrastructure its residents need, and an accurate census is a critical part of the process," saidCarlo Scissura, President and CEO of the New York Building Congress.
"By discouraging huge numbers of immigrants from participating in the census, this unnecessary question will make it more difficult for hospitals to provide effective, culturally competent care," saidGreater New York Hospital Association President Kenneth E. Raske. "First, an artificially low census count means less Federal funding for public health programs that hospitals rely on. Second, flawed census data will compromise hospitals' efforts to pinpoint the specific health care needs of the communities they serve. GNYHA strongly opposes the addition of this question."
"This move is a scare tactic aimed at some of our most vulnerable communities and could prevent New Yorkers from receiving the resources and representation we're owed. Not only is this a faulty way to collect data, but it is the latest reminder that this administration disregards the many contributions of immigrants to our nation," saidJulie Samuels, Executive Director, Tech:NYC
"The Queens Chamber of Commerce believes that collecting accurate economic and demographic data is highly beneficial to New York City and Queens County in particular. Data from the Census is fundamental to distributing federal resources appropriately," says Thomas J. Grech, President & CEO.