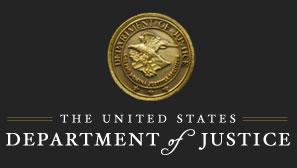 California Man Sentenced to Prison for Perpetrating Trademark Scam
A California man was recently sentenced to prison for his role as the mastermind of a $1.66 million mass mailing scam aimed at trademark holders. The former manager of a Wells Fargo branch in Glendale, California, and his associate were also sentenced to prison today for their roles in laundering the scam's proceeds.
Acting Assistant Attorney General Kenneth A. Blanco of the Justice Department's Criminal Division, Acting U.S. Attorney Sandra R. Brown of the Central District of California, Inspector in Charge Nichole Cooper of the U.S. Postal Inspection Service's (USPIS) Los Angeles Division and Special Agent in Charge Damon Rowe of IRS Criminal Investigation's (IRS-CI) Los Angeles Field Office made the announcement. The sentences were issued by U.S. District Court Judge Stephen V. Wilson.
Artashes Darbinyan, 37, of Glendale, was sentenced to 96 months in prison and was ordered to pay $1,557,979 in restitution. Orbel Hakobyan, 42, of Glendale, was sentenced to 24 months in prison and was ordered to pay $1,218,024 in restitution. Albert Yagubyan, 37, of Burbank, California, was sentenced to 18 months in prison and was ordered to pay $1,048,069 in restitution. In December 2016, Darbinyan pleaded guilty to one count of mail fraud and one count of conspiracy to launder monetary instruments, and Hakobyan pleaded guilty to one count of conspiracy to launder monetary instruments. Following a jury trial in March 2017, Yagubyan was convicted of one count of conspiracy to launder monetary instruments, four counts of concealment money laundering and one count of false bank entries.
As part of his guilty plea, Darbinyan admitted that from September 2013 to September 2015 he ran a mass mailing scam under the names Trademark Compliance Center (TCC) and Trademark Compliance Office (TCO), which targeted small businesses that had recently applied for trademark protection with the U.S. Patent & Trademark Office. The scam involved fraudulent offers of a service in which TCC and TCO promised to monitor an applicant's trademark for infringing marks and to register the trademark with U.S. Customs and Border Protection (CBP), which offers a real service that screens imports for possibly infringing trademarks. The offers were made via mail solicitations and claimed the services would be provided for $385. Darbinyan never monitored or registered, nor ever intended to monitor or register, any of the trademarks with CBP for the customers who paid the fee, he admitted.
Darbinyan also admitted to concealing his control over the scam through elaborate measures in which he illegally used the identities of other people to open accounts at virtual office centers in the Washington, D.C., area, which received and then forwarded victims' payments to other virtual office centers in the Los Angeles area. Using those same illicit identities, Darbinyan then, with co-conspirators' assistance, opened bank accounts at Wells Fargo through which he laundered the proceeds of the scam. To further avoid detection, Darbinyan paid virtual office fees with money orders; used bogus email accounts, which he would only log into using prepaid wireless modems; and regularly changed cell phone numbers.
As part of his guilty plea, Hakobyan admitted to helping launder the proceeds of the trademark scam. Specifically, Hakobyan deposited victims' checks into bank accounts at Wells Fargo that had been opened under false names. Hakobyan misrepresented his identity to withdraw funds from the accounts at Wells Fargo in the form of cash and cashier's checks, which he then used to purchase gold, he admitted. In total, he admitted to helping launder approximately $1.29 million of the scam's proceeds.
According to evidence presented at Yagubyan's trial, from June 27, 2014 to Sept. 18, 2015, Yagubyan, in his role as manager of a large Wells Fargo branch in Glendale, helped launder victims checks paid to the TCC and TCO. Yagubyan laundered the illegal funds by instructing subordinates at the bank to open bogus bank accounts, into which the illicit proceeds of the TCC and TCO scam were deposited, and to process fraudulent withdrawals, wire transfers and cashier's checks for co-conspirators Darbinyan and Hakobyan, the evidence showed. The cashier's checks and wire transfers were made out to gold dealers, turning the victims' checks into cash and gold that the co-conspirators could spend without being traced back to their fraud scheme. The bank accounts were opened using the identities of individuals from Eastern Europe who were not in the U.S. at the time the accounts were opened. The evidence at trial further showed that Darbinyan paid Yagubyan a percentage of the laundered proceeds and that Yagubyan, in turn, made payments and promises of promotion to subordinates to induce them to conduct the fraudulent transactions.
In total, according to Darbinyan's guilty plea and the evidence presented at trial, the trademark scam defrauded approximately 4,446 victims of $1.66 million.
USPIS and IRS-CI investigated the case. Trial Attorneys William E. Johnston and Alison L. Anderson of the Fraud Section of the Justice Department's Criminal Division are prosecuting the case.